Dior Opens Paris Fashion Week with Feminist Sloganeering on the Catwalk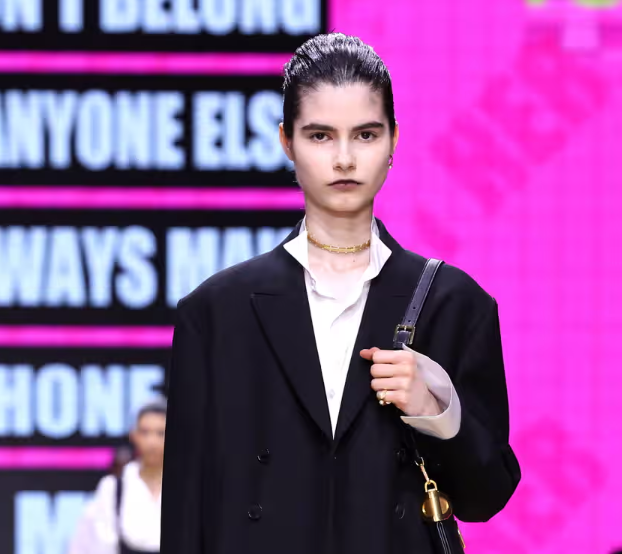 Anti-sexist sloganeering, pop art imagery and a collection celebrating the ease of unwaisted silhouettes, simple workwear styling and practical kitten heels were the order of the day at Dior's Paris fashion week show.
The patriarchy is so last season. Dior opened Paris fashion week with a diatribe against sexism spelled out in Barbie pink and McDonald's yellow, illustrated by a loose-fitting summer wardrobe which designer Maria Grazia Chiuri said was "a rejection of the fashion industrial system which dictates women must conform to an hourglass idea of perfection". Giant video screens splashed images of housewives in makeup and Marigold gloves, and of curvy models bending obligingly over cars, while feminist placard slogans flashed with neon urgency behind the catwalk. The words: "Take your hands off when I say no, take your eyes off when I say no" were spelled out on video screens as the first model marched past in loose black layers, a punky choker and black shoes. The second model was defiantly un-pristine in unbuttoned shirt cuffs and tails. However, how the glossy, logo-stamped designer handbag she carried gelled with the words: "Capitalism won't take her where she really wants to go" on the screen behind her was left notably unresolved at this show.
To view full content and a better mobile experience, try
Calik Denim mobile application
Tags