Denham Collaborates with the Victoria and Albert Museum (V&A)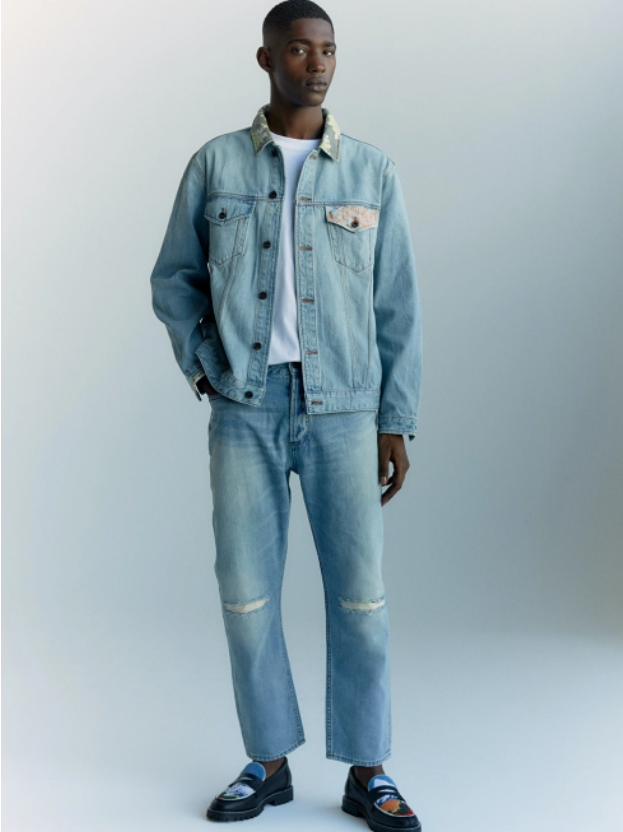 Art and fashion continue to collide. Denham recently collaborated with the Victoria and Albert Museum (V&A), one of the world's leading institutions of art, design and performance, on a new collection that explores an "East meets West" aesthetic.
The London museum's extensive archives inspired the men's and women's collection enriched with prints and patterns. "Researched in the V&A and designed with a modern workwear perspective, the range encompasses a vibrant mix of colorful patterns sourced from an album of Japanese textiles and a seascape by Gustave Le Gray, an early pioneer of photography as an art form," the Dutch brand stated. The collection's hero piece is an oversized rigid-yet-lightweight jean jacket with custom-printed twill on the collar, wrist and pocket flap. The same twill pattern is repeated on the fifth pocket of loose fit jeans, available cropped and full length. Floral graphics decorate co-branded T-shirts. Another T-shirt features one of Le Gray's sea images with the word "Vacation" printed on top of it. The V&A's address is printed on the back. Driving home the inspiration for the collection are two T-shirts with "Textile Research" printed across the front and back. The collection is available on Denham's website and retails for $75-$215.
To view full content and a better mobile experience, try
Calik Denim mobile application
Tags