The Power of Denim in the World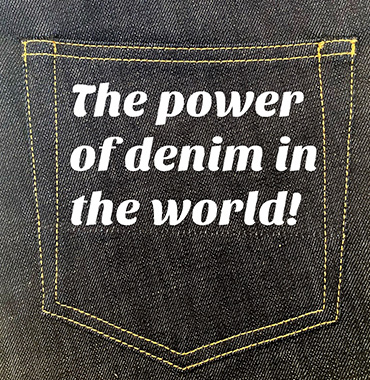 Denim is Everywhere and Everywhere Is Denim Since the story of denim started, for most people the starting point is when the legendary rivet got a patent in 1873, so 150 years ago now. Since then, the world is ''denimized''. Everywhere you look today you will find denim.
Denim is Everywhere and Everywhere Is Denim Since the story of denim started, for most people the starting point is when the legendary rivet got a patent in 1873, so 150 years ago now. Since then, the world is ''denimized''. Everywhere you look today you will find denim. Whether you're going shopping in the shopping center, which is filled with fast fashion stores and small boutiques, you can find pairs of jeans everywhere in all kinds of price levels. The turnover in denim worldwide is huge and bigger than ever. In 2022, there was a global denim market of around $102 billion, and they expect a growing market of $152 billion in the forecast period for 2022 to 2032. This means that we can expect even more and more denim on the streets.
Denim is for Everyone If you take a look at yourself or the people around you, you will notice that (almost) everyone is wearing denim. It's impossible to go on the streets without seeing blue jeans. What started as a true workwear piece has grown into a catwalk item that is here to stay. Of course, you can still see people wearing denim while doing their hard labor job, but it's evolutionized since the beginning. Denim is also ageless, it isn't only made for the young generation, or the people that are die-hard fashion people, it's for everyone, young and old. It's genderless too. Another good thing about denim is that it is available for people with a small and big budgets. You can score a very cool pair in all different price ranges nowadays.
The Strong Denim Community Denim goes further. It doesn't stop with only wearing jeans. There's so much more behind these blue jeans and jackets. There's a whole community of people that are sharing each day their daily outfit, their new denim purchase, and the coolest collabs on social channels such as Instagram and TikTok. Not to forget about the many magazines or books focussed on denim and it's a lifestyle. There's a huge group that is posting each day about denim with popular hashtags such as #doubledenim or #denimfades. Even events and trade shows are not only about denim fabrics anymore. These events are gathering parties for like-minded people that are interested in this authentic fabric, and everything that goes along with it. Of course, the main focus is to select the new developments from all the denim mills, but there're a lot of denim activations and specials organized each season that attracts also people outside the industry. People that want to be connected to the blue world too.
Denim isn't Only For The Rebels Another shift and the great influence of denim is the fact that people that are working in a more corporate company don't always or only wear suits anymore. The 'Casual Friday' is taking it's over hand on most days of the week as you can wear a neat jacket with a clean jean too. This is more accepted than ever. One of the reasons is that the rebellious touch of denim back in the day has changed into a more relaxed mindset of blue denim garments.
Sustainable Ways To Use Denim Next to wearing denim as garments you see more and more sustainable initiatives too where denim is used as a base for new products. People are upcycling jeans more than before. They take an old pair that they don't wear anymore and alter and customize them so they want to start wearing them again. Also decorating their jackets with patches, the Japanese Sashiko stitching technique, and other ways extent the lifetime of their garments. Even old pairs of jeans are not thrown away anymore but used in making other items to use as bags, pillows, and tablecloths, but also denim paper is made from old jeans. And what about furniture? The coolest chairs and tables can be made from leftover denim fabrics or collected jeans too. So, next to wearing denim, you can even sit on denim. How cool is that!
Denim is Taking Over The World Nobody could imagine that denim would take over the world in so many ways. And the future will bring so many new and other opportunities as well as we're just started with this new mindset to use everything that is already made. Some people use the slogan, nothing goes to waste more often than before, which means that they want to do everything without spoiling mother earth with overconsumption or old jeans and jackets. Instead, the group of conscious people is growing each day which makes the world greener, but also bluer. Talking about the power of denim!
Denim Her Yerde, Hatta Her Yer Denim Denimin hikayesi birçok kişi için bundan yaklaşık 150 yıl önce, efsanevi rivet patentinin alındığı 1873 yılında başladı. O tarihten beri de dünya giderek "denimleşti". Bugün nereye baksanız karşınıza denim çıkar. İster son modayı yansıtan dükkanlar dolu bir alışveriş merkezi ister küçük butikler olsun ne zaman alışverişe çıksanız, her türlü fiyat aralığında bir jean bulmanız mümkün. Günümüzde denim alanında dünya çapında elde edilen gelir her zamankinden daha büyük. 2022 yılında küresel denim pazarı yaklaşık 102 milyar dolar iken, büyüyen pazarın 2022-2032 yılları arasında 152 milyar dolara ulaşacağı tahmin ediliyor. Bu da sokaklarda çok daha fazla denim göreceğimiz anlamına geliyor.
Denim Herkes İçin Kendinize veya çevrenize bir bakın, (neredeyse) herkesin denim giydiğini göreceksiniz. Sokakta yürüdüğünüzde jean giymiş birini görmeme ihtimaliniz yok. Özünde bir iş kıyafeti olarak serüvenine başlayan denim, modası asla geçmeyecek bir podyum malzemesine dönüştü. Elbette denim giymiş ağır iş yapan birini görebilirsiniz, ancak bu malzemenin ilk ortaya çıktığı yıllardan beri büyük bir değişim gösterdiği de bir gerçek. Ayrıca denim için belli bir yaş grubu yok. Yalnız genç nesil veya moda tutkunları için değil, gencinden yaşlısına kadar herkes için tasarlanmış bir malzeme. Cinsiyet de denim için bir önem arz etmiyor. Bütçesi dar ya da bol herkesin alabileceği bir malzeme olması da denimin bir başka avantajı olarak öne çıkıyor. Günümüzde her türlü fiyat aralığında oldukça iyi bir denim jean alabilirsiniz.
Güçlü Denim Topluluğu Denim daha da ileri gidiyor. Mesele jean giymekten ibaret değil. Jean ve ceketlerden çok daha fazlası söz konusu. Instagram ve TikTok gibi sosyal medya kanallarında iş birlikleri yapan, paylaşımlarında günlük kıyafetlerine, yeni denim alışverişlerine yer veren büyük bir insan topluluğu var. Denimi ve denimin bir yaşam tarzı olduğunu savunan birçok dergi ve kitabı da unutmamak gerek. #doubledenim veya #denimfades gibi popüler etiketlerle her gün denim hakkında paylaşım yapan geniş bir kitle mevcut. Hatta etkinlik ve fuarların odağı da artık denim kumaşın kendisinden ibaret değil. Bu tür etkinliklerde denim kumaşa ve bu özgün kumaşla uyumlu diğer her türlü şeye ilgi duyan kişiler bir araya geliyor. Elbette işin özü tüm denim fabrikalarındaki en son gelişmelerin takibiyle ilgili olsa da, denimle ilgili sektör dışından insanların da ilgisini çekecek faaliyetler ve özel etkinlikler de düzenleniyor. Ayrıca bu indigo dünyayla bağlantılı olmak isteyen insanlar da var.
Denim Yalnızca Asiler İçin Değil Denimin bu kadar büyük bir değişim ve etki göstermesinin bir diğer sebebi de, kurumsal şirketlerde çalışanların da artık sürekli veya yalnızca takım elbise giymedikleri gerçeği. Örneğin haftanın Cuma gününde serbest kıyafet uygulaması giderek yaygınlaşırken, diğer günlerde de çalışanlar bir gömleğin altına yine düz yıkamalı bir jean giyebiliyorlar. Bu, son derece kabul gören bir durum haline geldi. Bunun sebeplerinden biri de, geçmişte denime atfedilen asi havanın zamanla mavi denim kıyafetlerle ilgili daha esnek bir bakış açısına dönüşmesi.
Denim Kullanımının Sürdürülebilir Yolları Bir hazır giyim ürünü olarak karşımıza çıkan denim, sayısı giderek artan sürdürülebilir girişimlerde yeni ürün geliştirilmesinde kullanılan temel bir malzeme haline geldi. Jean ileri dönüşümde de daha fazla kullanılır hale geldi. İnsanlar artık giymedikleri eski bir jeani alıyor, diledikleri şekilde üzerinde değişiklik yaparak tekrar giyiyor. Ayrıca Japon Sashiko dikiş tekniğiyle yama yaparak ceketlerini süslüyor, diğer benzer yollarla da giysilerinin ömrünü uzatıyorlar. Eskimiş jeanler dahi artık bir kenara atılmıyor, çanta, yastık, masa örtüsü gibi ürünlerin yapımında kullanılıyor. Üstelik eski jeanlerden denim kağıt dahi yapılabiliyor. Peki ya mobilyalar? Günümüzde en şık masa ve sandalyelerde denim kumaş artıkları, hatta toplanan jeanler de kullanılabiliyor. O halde şöyle de diyebiliriz, artık denimi yalnızca giymeyecek, üzerine oturabileceğiz. Çok havalı değil mi?!
Denim Dünyayı Etkisi Altına Alıyor Denimin dünyayı bu denli etki altına alabileceği kimsenin aklına gelmezdi. Hali hazırda üretilmiş her şeyi kullanmamıza yönelik bu yeni bakış açısı sayesinde, gelecekte karşımıza daha başka yepyeni fırsatların çıkacağı bir gerçek. Kimileri, "artık hiçbir şey eskisinden daha sık çöpe gitmemeli" sloganını benimsemiş durumda. Bu da, dünyamızı aşırı tüketimle, veya eski jean ya da ceketlerimizle kirletmemek için ellerinden gelen her şeyi yapmak istedikleri anlamına geliyor. Daha yeşil ve daha mavi bir dünya için çabalayan bilinçli insanların sayısı giderek artıyor. İşte tam burada denimin gücünden bahsediyoruz!
To view full content and a better mobile experience, try
Calik Denim mobile application
Tags