The Key Features of The Evolution of Blue Jeans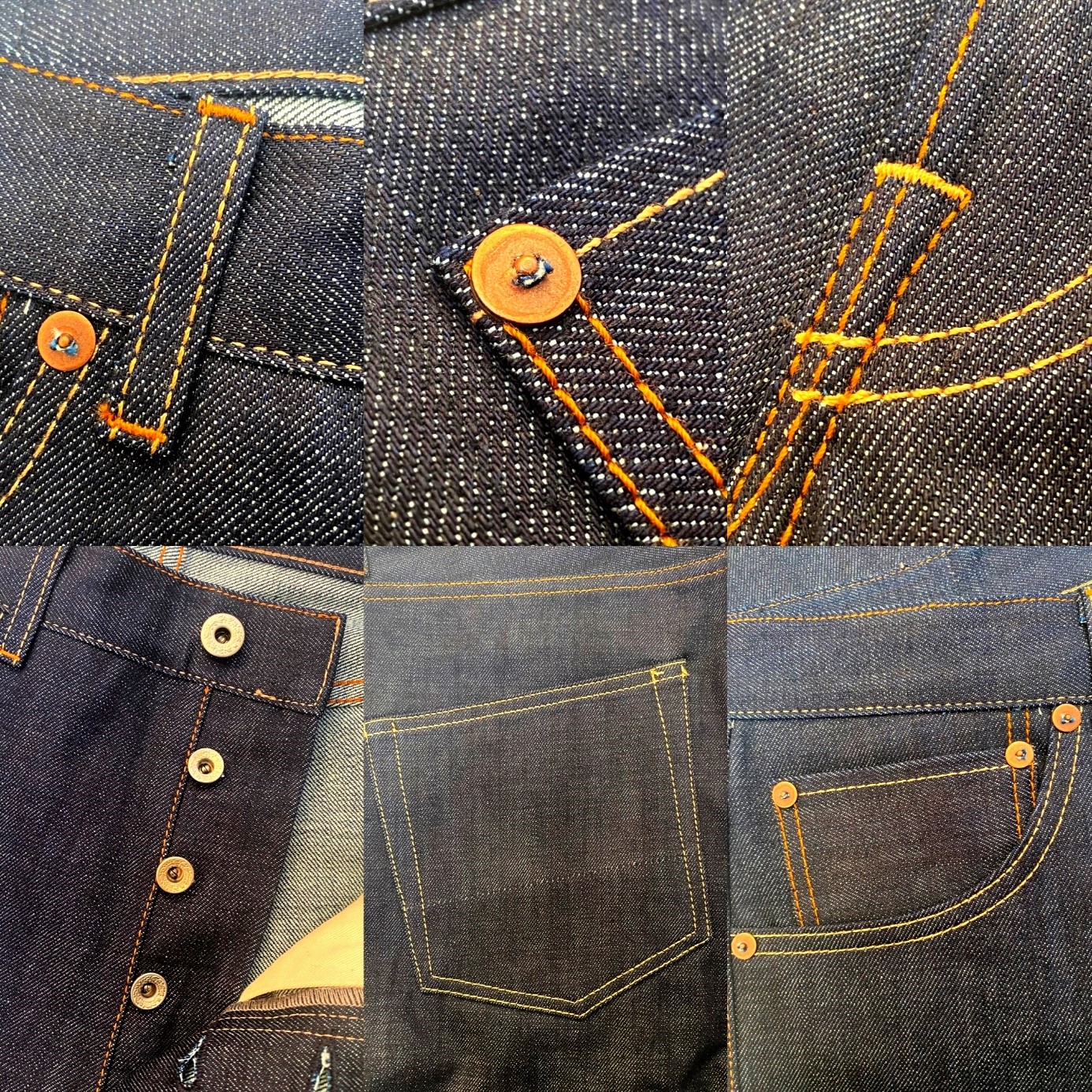 150+ Years of Jeans Usage Since jeans is born we have seen many changes over time in this historical garment. Changes that were made that are related to the innovations of a specific period. As jeans was first made as a strong and long-lasting workwear garment explains why the design of it changed with time as it isn't used as workwear most of the time anymore these days.
Jeans became more and more popular after World War 2, and also its demand to make jeans more comfortable to wear it more easily. Also, the behavior of people is constantly influencing the design of jeans. If you look back at the starting point of the invention of jeans, we can say that over the 150+ years of usage of jeans, jeans 'evolutioned' heavily. Time to focus on the most influencing years and design parts of jeans in a sort of recap: 'The key features of the evolution of blue jeans'. The evolution of the most popular garment ever made.
The Starting Point Jeans was first made as a workwear style for miners since the mid of the 1800s. Jeans wasn't called jeans, but waist overalls back then, as the workers uses this work pants over their own clothing. The bosses of the gold and silver mines reached out these garments to their employees. As the waist overalls were worn over the pants of the workers, the design was quite big and wide. You could recognize these workwear pants with the four pockets, three on the front (including the watch/coin pocket), one back pocket (the right pocket), a button fly, and rivets on points of stress (such as pocketing and crotch rivet), and suspender buttons on the waistband to keep your pants up. This as belt loops were not standard for blue jeans.
The Addition of a Second Back Pocket As most people are righthanded, the right back pocket was part of waist overalls since day one. This is so the workers could slip easily into the right back pocket while working. But the demand for more pockets grew over time and in 1901 the second back pocket was added to jeans too, this was the birth of the left back pocket. Another milestone within the evolution of jeans.
Keep Your Jeans Up with a Belt In the beginning, only suspender buttons were part of the workwear pants, but more and more people started to use belts as well. Therefore belt loops were added to jeans in the early 1920s, so since then waist overalls could be worn with suspenders or a belt. Both options were still on the pants so wearers could hold their jeans up in their own preferred way.
The introduction of the zipper Buttons were standard on waist overalls as this makes it easy for wearers to open their fly fast, but in 1926 the first pairs were also made with a zipper. A feature that is still part of many jeans these days, especially on women's jeans, but also a lot of men's jeans designs are made with a zipper.
Scratching Furniture is Over The first waist overalls were made with rivets on the outside of the back pocket(s). As these rivets were originally used for horse blankets, later they redesigned them, but they were still quite sharp, so they scratched (leather) furniture, saddles, and so on. Therefore they came up with an idea in 1937 to cover these rivets with the now so-called hidden rivets. This means that the back pockets are fastened over the rivets, so they can't scratch anymore.
The Domination of World War 2 The 1940s were dominated design-wise by World War 2. As every brand was forced by the American government to save materials for war, they had to remove parts of jeans. The cinch back on the back of the jeans was removed, and belt loops stayed, of course, this became also a more popular way to keep your jeans up. Next to that, rivets on the coin/watch pocket were removed as well. You can say in general, jeans were simplified.
The Mother Design of All Jeans After World War 2, most parts of the removed design elements due to wartime didn't come back. The jeans design after the war also referred to as the 1947 model, is still today called the 'mother of jeans' due to the fact that it's the base of all most all jeans.
Jeans Became Popular Outside of America During the 1950s jeans became popular with the youth as they saw soldiers wearing them in their spare time and they left their jeans also at thrift stores. Actors such as Marlon Brando and James Dean started to appear on screen wearing jeans too, so youth started to dress like these cult figures. This period was very important and changed the mindset of jeans as it was no longer only a workwear garment.
When Bar Tacks Became Standard on Jeans In 1966 a new invention was added to jeans, bar tacks. Bar tacks are a series of stitches used to reinforce areas of a garment that may be subject to stress. So, they replaced rivets on some areas of the design of the jeans. Bar tacks can be seen nowadays for example on the crotch, and back pockets, but also belt loops are fastened with this stitching technique.
Jeans as We Know Them Today As you can read the design of a pair of jeans constantly changed. The described changes are the most common and big changes, but there were more small changes too such as the position of the coin/watch pocket, which was first fastened on the waistband (most of the time). Another key detail that is constantly changing is the fit of jeans. In the beginning, jeans were wide-legged with a high waist, but over time this has changed constantly and still does. Remember when the slim-fit jeans made his entrance? Most people were wearing more straight wide fits around 20 years ago, the slim fit jeans was not common to wear, only if you were a rocker. These days every brand is carrying slim fits, and they became even slimmer and slimmer each year. This is also because the denim fabric changed heavily. While the first miner pairs were made of cotton, these days denim fabrics with stretch are key, so made with elastane, lycra, and acrylic materials. Today, the key features of most jeans are still five pockets, two legs, belt loops, rivets, bar tacks, and buttons or a zip fly. Classic design elements of a classic piece of garment that is here to stay forever!
Jean Evriminin Temel Özellikleri
Jean'in 150+ Yıllık Geçmişi Geçmişi yıllar öncesine dayanan jean ortaya çıktığından bu yana birçok değişikliğe uğradı. Yapılan değişiklikler, döneme özgü yeniliklerle ilgiliydi. Jeanler ilk olarak güçlü ve dayanıklı bir iş kıyafeti olarak üretilmişti. Zaman içerisinde tasarımı değişen jean artık çoğunlukla iş kıyafeti olarak kullanılmıyor. İkinci Dünya Savaşının ardından jeanlerin popülaritesi ve kolay giyilebilen daha konforlu bir jeane duyulan talep giderek arttı. Değişen insan davranışları da jeanlerin tasarımı üzerinde etkili oluyor. Jean icadının en başına baktığımızda, 150 yılı aşkındır kullanımda olan bu ürünün zaman içerisinde ciddi bir "evrim" geçirdiğini görebiliriz. Gelin jeanin en etkili olduğu yıllara ve jean tasarımına kısaca bir göz atalım: 'Jean evriminin temel özellikleri'. Şimdiye dek üretilen en popüler kıyafetin evrimi.
Başlangıç Noktası Jean 1800'lü yılların ortalarından beri madencilere yönelik iş kıyafeti olarak üretilmeye başladı. Madenciler bu iş jeanini kendi giysileri üzerine giydiklerinden, o yıllarda jean olarak değil, tulum olarak anılıyordu. Altın ve gümüş madenlerinin patronları bu kıyafetleri çalışanlarına temin ederlerdi. İşçileri tulumu kendi jeanleri üzerine giydiklerinden ötürü, tasarımı oldukça büyük ve genişti. Bu iş kıyafetleri üç ön cep (saat/para gözü dahil) ve bir arka cep (sağda) olmak üzere dört cebi, aşınma yerlerinde (cep ve ağ kısımları gibi) kullanılan düğme ve rivetleri, ve jean düşmesin diye kullanılan kemer üzeri askı düğmeleri gibi özellikleriyle öne çıkıyordu. O dönemde jeanlerde kemer köprüleri kullanılmıyordu.
Arkaya İkinci Cebin Eklenmesi Çoğu insan sağ elini kullanıyor olduğundan, sağ arka cep ilk icadından beri tulumlarda mevcuttu. Böylece işçiler bir yandan çalışırken diğer yandan ellerini kolaylıkla sağ ceplerine atabiliyordu. Ancak zamanla daha fazla cebe ihtiyaç duyulduğundan, 1901 yılında ikinci arka cebin de jeanlere eklenmesiyle sol arka cep doğmuş oldu. Bu ekleme, jean evrimindeki bir diğer mihenk taşı oldu.
Jean'e Kemer Takılması Başlangıçta askı düğmeleri bu iş kıyafetinin bir parçası iken, insanlar giderek kemer de kullanmaya başladılar. Böylece 1920'li yılların başında kemer köprüleri de jeanlere eklendi. O tarihlerden sonra tulumları askı veya kemerle kullanmak mümkün hale geldi. Jean üzerinde her iki seçenek de mevcut olduğundan, insanlar artık diledikleri şekilde jeanlerini tutturabiliyordu.
Fermuarın Ortaya Çıkışı Önceleri tulumlarda genel olarak düğme kullanılırken, 1926 yıllarına gelindiğinde fermuarlı jeanler de üretilmeye başlandı. Fermuar günümüzde de birçok jeande kullanılan bir özellik olarak karşımıza çıkıyor. Özellikle kadın jeanlerinde mevcut olan bu detay, erkek jeanlerinde de kullanılıyor.
Mobilyaların Çizilmesine Son İlk üretilen jeanlerde arka cebin (ya da ceplerin) dış kısmında rivetler mevcuttu. Çünkü rivetler başlangıçta at örtüleri için kullanılıyordu. Zaman içerisinde tasarımları yenilense de, hala oldukça kesin olduklarından deri mobilya ve eyer gibi malzemeleri çiziyorlardı. 1937 yılına gelindiğinde bu rivetleri gizli rivetlerle kapatma fikri ortaya atıldı. Böylece arka cepler rivetlerin üzerine takılacağından, artık çiziklere yol açmayacaklardı.
İkinci Dünya Savaşı'nın Etkisi 1940'lı yıllar tasarım açısından İkinci Dünya Savaşı'nın etkisi altındaydı. Amerikan hükûmeti tüm şirketleri savaş için malzeme tasarrufunda bulunmaya zorladığından, jeanlerin bazı unsurlarının da kaldırılması gerekti. Böylece jeanin arkasındaki kancalı kısım kaldırıldı, kemer köprülerine ise dokunulmadı. Bu tasarım giderek daha popüler hale geldi. Bunun yanı sıra, para/saat gözündeki perçinler de kaldırıldı. Genel anlamda jeanin daha sade bir hale getirildiğini söyleyebiliriz.
Tüm Jeanlerin Baş Tasarımı Jeanlerin tasarımından çıkartılan unsurlar İkinci Dünya Savaşı bittikten sonra da geri gelmedi. Savaş sonrası ortaya çıkan yeni jean tasarımına 1947 modeli de denir. Bu model, neredeyse tüm jean tasarımlarının temelini oluşturduğundan günümüzde "jeanlerin baş tasarımı" olarak da anılmaktadır.
Jean'in Amerika Dışına Yayılması 1950'lerde gündelik hayatta jean giyen ve ikinci el dükkanlarına bu jeanlerini bırakan askerleri gören gençler arasında da jean popüler hale geldi. Marlon Brando ve James Dean gibi aktörlerin de ekranlarda jeanleriyle görülmeye başlamasıyla birlikte gençler, idolleri olan bu figürler gibi giyinmeye başladı. Jeane bakış açısının değiştiği ve artık bir iş kıyafetinden ibaret görülmediği bu dönem, jean tarihinde oldukça önemli bir yere sahiptir.
Çubuk Dikişlerin Jean'de Standart Hale Gelmesi 1996'da yeni bir icat olan çubuk dikişler jean tasarımına eklendi. Çubuk dikiş, kıyafetin yıpranmaya açık kısımlarını güçlendirmede kullanılan bir dizi dikiştir. Bu yeni uygulama, jeanin bazı kısımlarında rivetlerin yerini aldı. Günümüzde çubuk dikiş tekniğini ağ kısımlarında, arka ceplerde ve kemer köprülerinde görmek mümkün.
Günümüzdeki Haliyle Jean Önceden de bahsettiğimiz üzere, zaman içerisinde jean tasarımı sürekli değişti. Bu değişiklikler en sık görülen büyük değişiklikler olsa da, başta (genellikle) kemer üzerine tutturulan para/saat gözünün konumunun değişmesi gibi küçük değişiklikler de oldu. Bu konudaki bir başka önemli detay da jean ölçülerinde ortaya çıktı. Jeanler önceleri yüksek belli ve bol paça iken, zamanla bu durum değişti ve hala da değişmeye devam ediyor. Dar kesim jeanlerin piyasaya nasıl güçlü bir giriş yaptığını hatırlarsınız. 20 yıl kadar önce insanlar çoğunlukla düz kesim giyerdi. Bir Rock'çı değilseniz, dar kesim jean de giymezdiniz. Bugünlerde ise her markanın dar kesim modeli mevcut ve yıllar geçtikçe bu kesimler giderek daha dar hale geliyor. Bunun bir sebebi de, denim kumaşının oldukça değişmiş olması. İlk madenci jeanleri pamuk ipliğinden üretilmişken, günümüzde elastan, likra ve akrilik malzemeden üretilen esnek denim kumaş temel malzeme haline geldi. Beş cep, çift bacak, kemer köprüsü, rivetler, çubuk dikişler, düğme veya fermuarlar ise birçok jeanin temel öğeleri olarak varlığını sürdürmeye devam ediyor. Çünkü bunlar, modası asla geçmeyecek bu kült kıyafetin klasik tasarım unsurları!
To view full content and a better mobile experience, try
Calik Denim mobile application
Tags