Trompe L'Oeil Is The Surrealist Fashion Trend That Is Taking Over Denim This Fall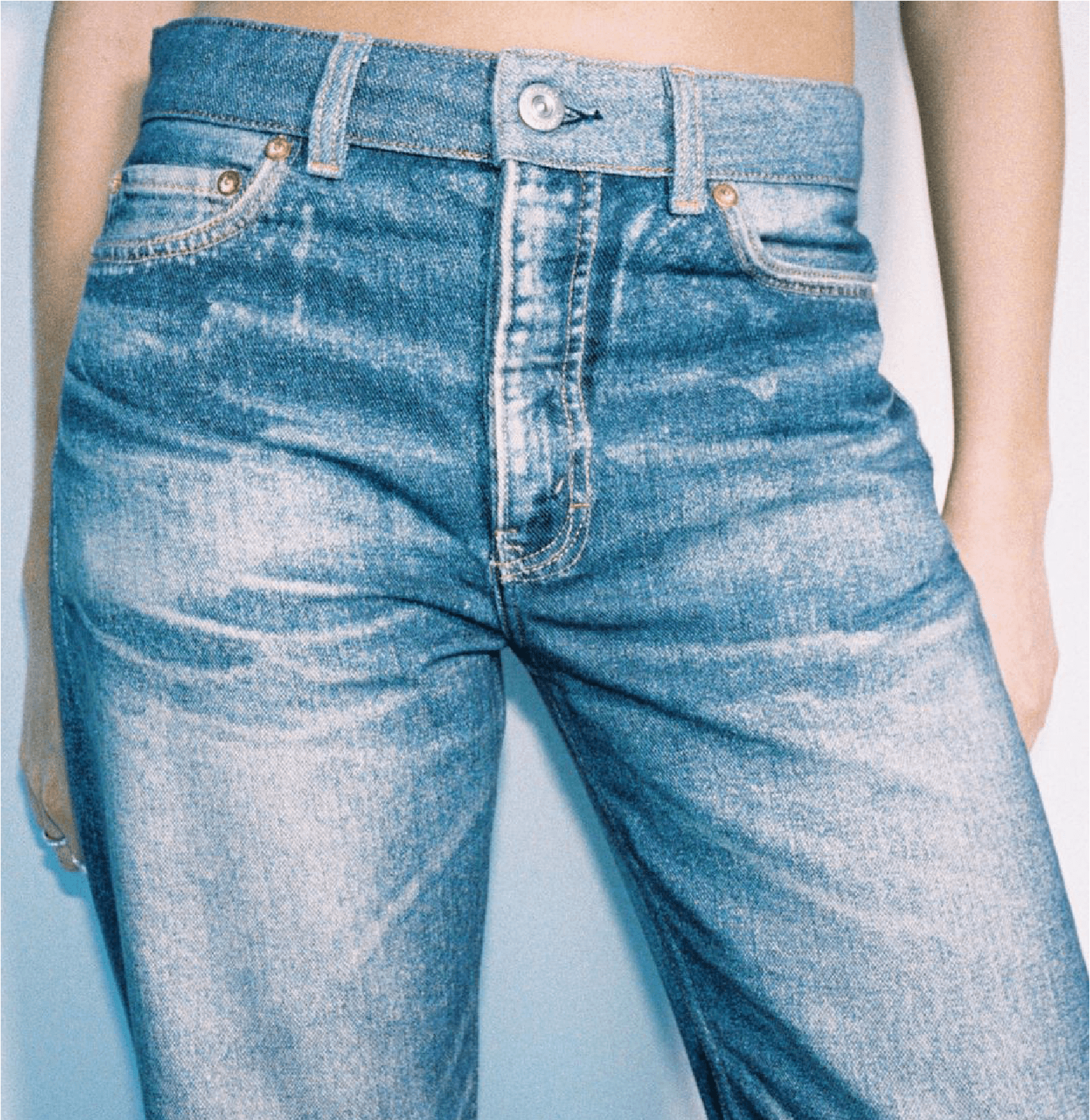 True blue jeans have a reputation for being casual—but not all denim has to be. Case in point, the current wave of trompe l'oeil denim that has been washing up across runways and retail collections over the past few seasons.
True blue jeans have a reputation for being casual—but not all denim has to be. Case in point, the current wave of trompe l'oeil denim that has been washing up across runways and retail collections over the past few seasons. At first glance, these pants look a lot like a regular pair of jeans, but on closer inspection they aren't technically jeans. Instead these wide-leg trousers use a digital photoreal print to create the optical illusion of denim. Trompe l'oeil, which means "to deceive the eye" or "trick the eye" in French, is an art technique that uses clever 3D visuals to give the viewer the illusion that an image exists when in reality, it's not. According to Refinery 29, the artistic technique took off almost 100 years ago, thanks to creatives like Elsa Schiaparelli, Jean Cocteau, and Salvador Dalí, who were major figures in the development of surrealism. But it was in the world of fashion where it really took off in the mainstream when major designers like Maison Martin Margiela, Comme des Garçons, Gucci, Fendi, and Moschino started dabbling in this expressive effect. Jean Paul Gaultier's infamous body prints from his early '90s collections are perhaps the most iconic though.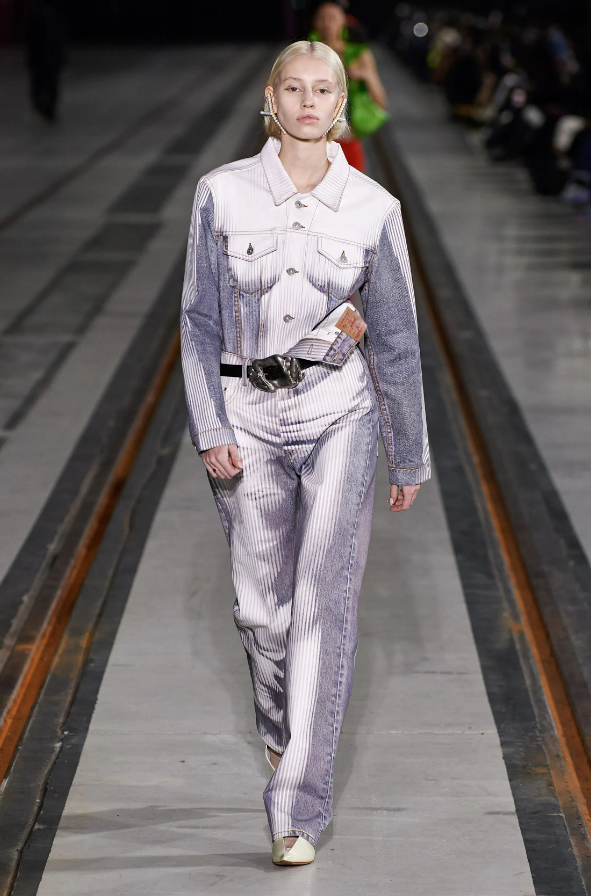 In denim, these surrealist tactics have been used as a way to capture the growing demand for comfort post-pandemic as consumers increasingly seek out soft focus denim to complement the easy-on-the-skin touch of joggers and yoga pants that they have become accustomed to during the lockdown period. Many denim brands have been tackling this shift by introducing novelty blends that offer enhanced stretch and softness. Take for instance, Calik's E-Last and Flextend which boosts freedom of motion and promises one of a kind power stretch. But several brands are exploring these new pseudo denim looks as a way to cleverly combine the effortlessly cool appearance of denim with cosy, soft materials.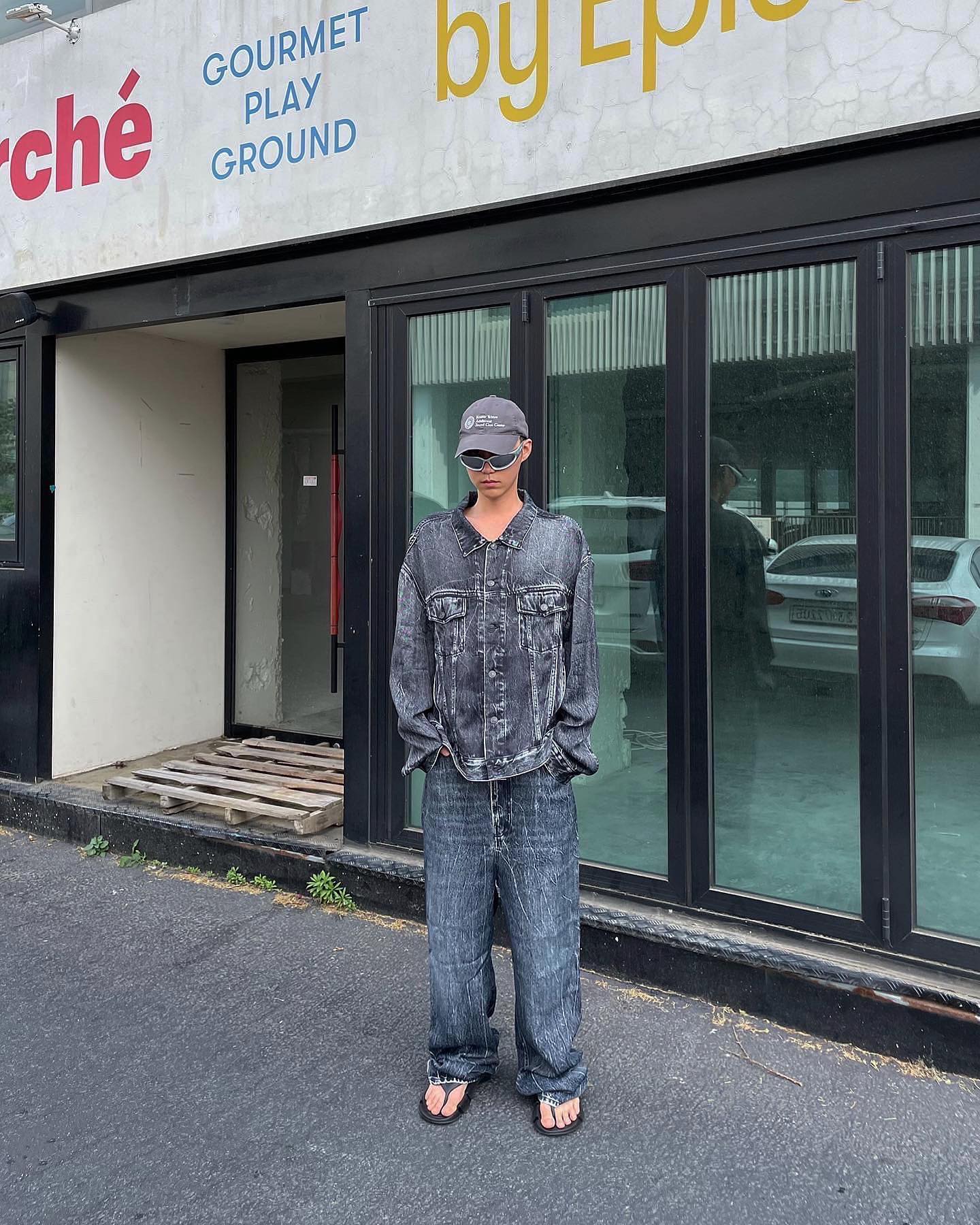 A few designers getting in on the action include Demna, creative director of Balenciaga, who expertly crafted a pair of summer-ready jeans and oversized denim jacket using printed viscose satin. The drapey set appears like typical vintage denim; fades, belt loops, 5-pocket styling and buttons but are smooth to the touch. The Paris-based label is known for its trademark modernistic silhouettes, and these pseudo denim pieces, along with their astronomical prices (jacket US$ 1,845/ baggy pants US$ 1,105) have been one of the ways Demna has been staying true to the legacy of the label. Another name that has been exploring these trick-of-the-eye looks is Glenn Martens, who has been weaving digital prints into both his angular work at Y-Project through to his commercial-cum-chaotic denim at Diesel. The Belgian designer has used jeanswear as a key component to establish his distinct vision of luxury. His bonkers designers include cotton workwear jackets, shearling, and cowboy boots, meets sportswear-inflected club kid, all shot through with an obsession with pushing fabrication to the limits: doubled-up collars, cut-outs, ankle cuffs that run up the entire leg of a jean.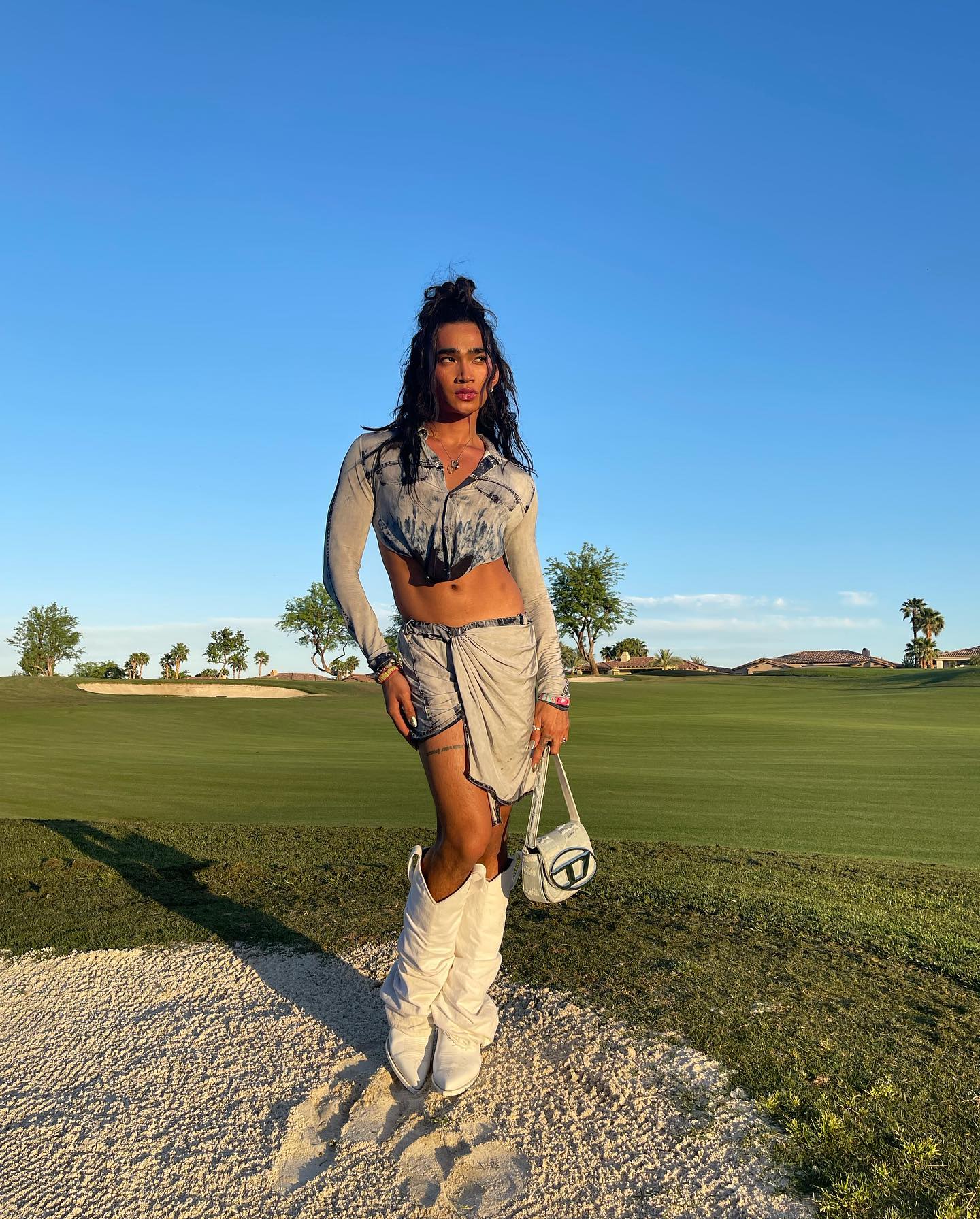 His offbeat designs have become a staple for young cool kids and celebrities alike - icons like Rihanna, who first took Martens' work viral when she rocked his thigh-high UGG boots (from a runway collaboration with the Californian brand) at Coachella in 2018. In fact, it's at festivals and nightclubs where Martens sees the people he designs for: "I think these are clothes that I think I can wear, and that I can see easily in the clubs in Paris and London" he recently told GQ. It's exactly in these types of nightlife spots where Martens latest run of digital print denims have been doing the rounds as of late. At Coachella, Singer Olivia O'brien wore Diesel's all-in-one catsuit with a dirty pink acid wash digitally printed on a second-skin Italian stretch jersey. And high profile influencer Bretman Rock opted for Diesel's C-Suki set, a matching shirt and short cut from fluid twill which recreates the look of bleached denim using scanning, laser printing and cut-and-sew techniques.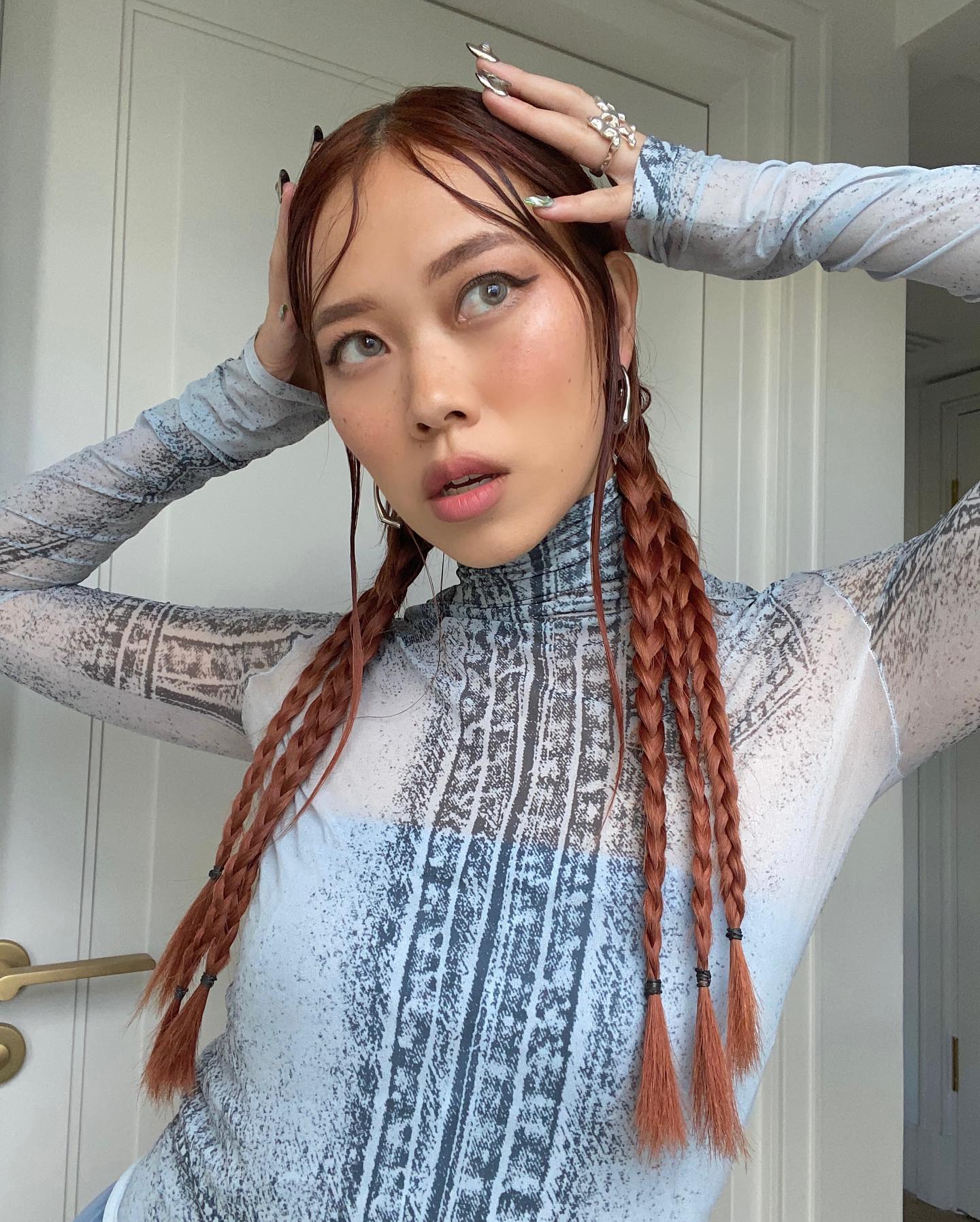 Martens obsession with these optical illusions are undeniably inspired by the early work of the 'enfant terrible' of fashion, the legendary Jean Paul Gaultier. In fact, Martens oozed Jean Paul Gaultier's timeless trompe l'oeil prints at his FW22 Y/Project show, ahead of the collaborative JPG x Glenn Martens Haute Couture SS22 show. Vibrant visually-busty tanks coupled the runway with full body-alluding denim suits and penis pants, leaving the runway exposed and bursting with clever kinks. Elsewhere on the catwalk, this clever denim alchemy has been appearing in the collections of other well-known designers like MM6 Margiela, which printed jean fronts onto skirts, while Swedish label Acne Studios created second skin looks with digitally printed toile tops as well as abstract denim prints.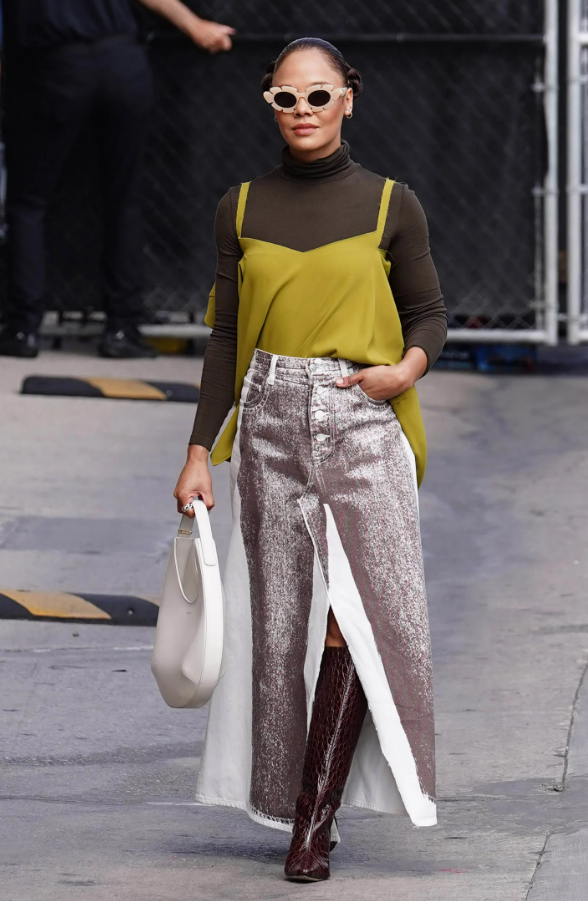 The trend is not just popular for womens either. Swedish label Our Legacy has been seeing huge success of trompe l'oeil effects for men with its luxe digital denim print jean that emulates the look of a classic vintage 5-pocket pant. Taking direct reference from the designers archive, the cotton twill pants are digitally printed to give the appearance of a well worn pair of favourites. The novelty design, which retails at £370 have been flying off the shelves and have sold out every season since they originally dropped back in 2021.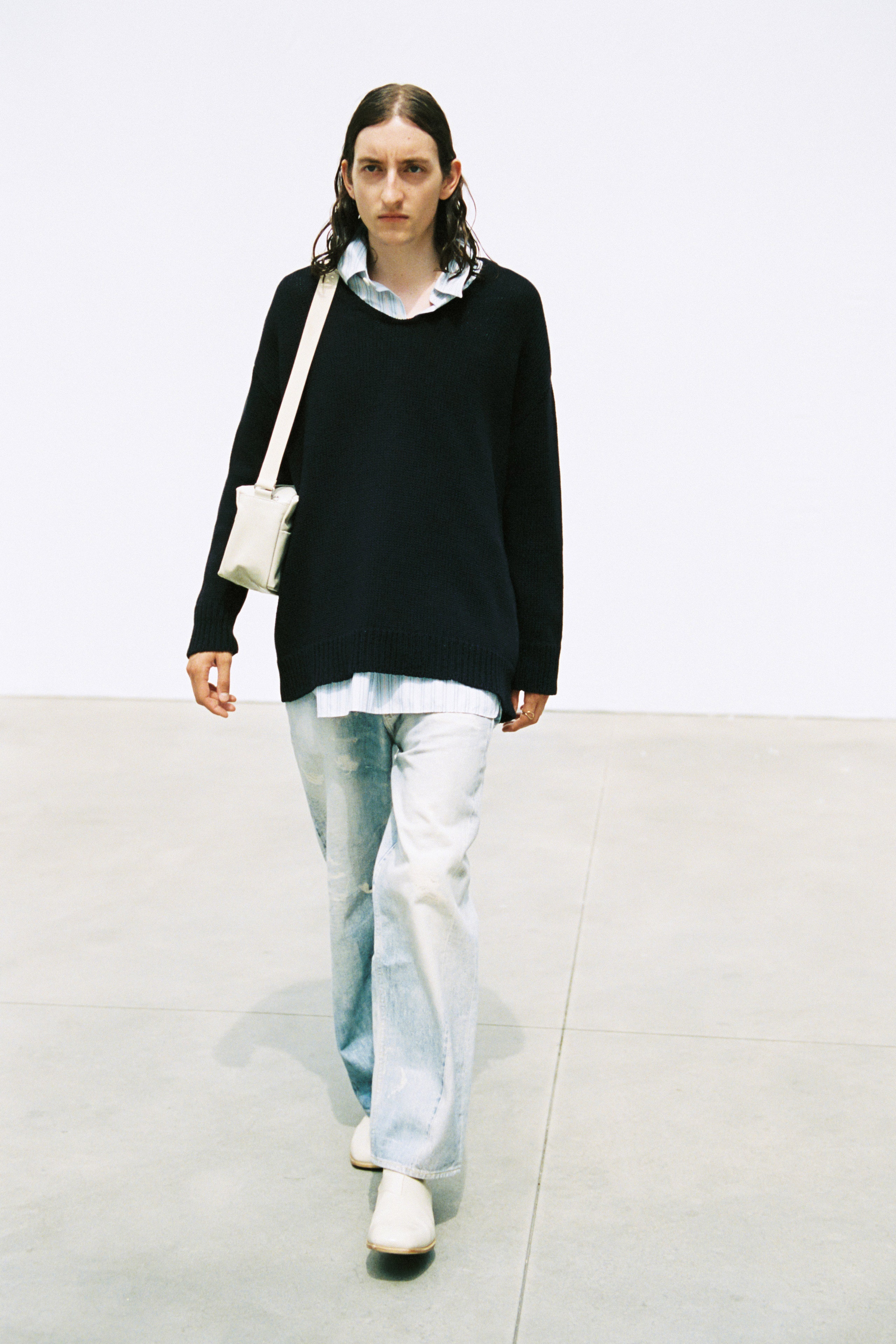 London-based designer Bianca Saunders used these overtly experimental techniques as a way to achieve a more responsible approach to denim laundry. Aware of the impact of chemicals and chemicals used in the wash and finish stage, Saunders looked to trompe l'oeil sublimation prints as a way to cut out the process altogether. The textile on textile effects featured across the collection of denim pieces created in collaboration with Wrangler, which started for SS21, with a photograph of creased denim transposed onto a shirt and straight-fit jeans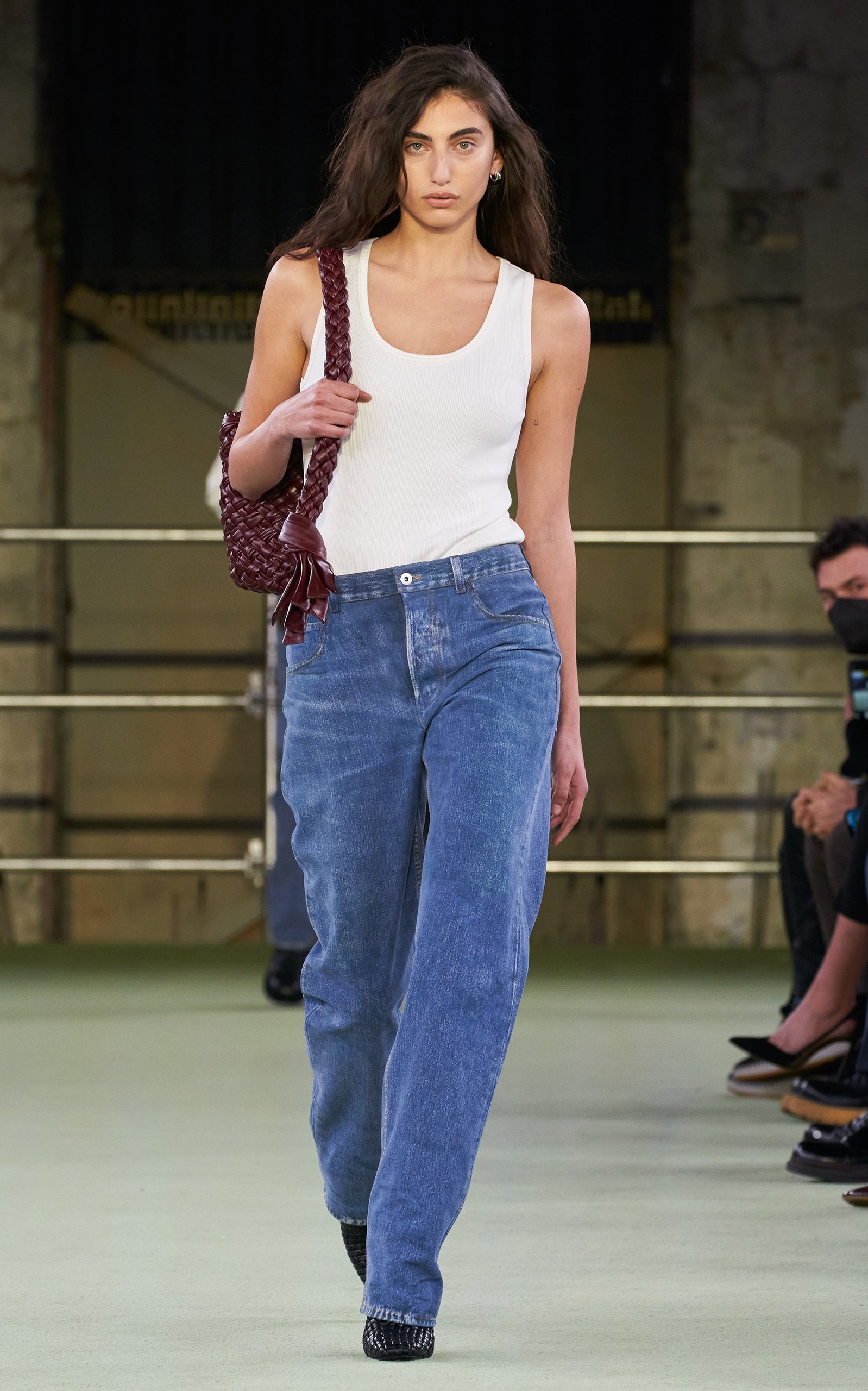 One of the most elaborate takes on the trend, however, comes from Bottega Veneta. For his debut AW22 collection at the house, Matthieu Blazy opened the show with a simple white tank top and jeans look followed by a gent in a shirt and matching pair of jeans. What made both these pants so special though was the fact they were all made from leather. Bottega Veneta started as a handbag business and woven leather intrecciato is the house specialty, but the sublime nubuck of the jeans was a surprise—and a showcase for the thoughtfulness of the house's new designer. The jeans have become a favourite for famous musicians like Pharrell Williams and Migos' Offset who have been spotted at fashion week wearing them. Be it the search for comfort in post-pandemic dressing, a salute to 90s archive style or bringing a sense of playfulness back into fashion, quite simply, for fun, there's no denying that pseudo denim is making waves. And whether you're wearing the real deal or just an illusion, there is plenty of reason to be getting back into denim.
Trompe L'Oeil: Bu Sonbaharda Denim Kumaşın Yerine Geçen Sürrealist Moda Akımı
Orijinal mavi jeanler çok gösterişli olmamakla bilinir, ancak tüm denimlerin böyle olması gerekmez. Son birkaç sezonda podyumlarda ve perakende koleksiyonlarında boy gösteren mevcut trompe l'oeil denim dalgası buna bir örnek. İlk bakışta, bu tür pantolonlar normal jeanlere benzer ama daha yakından incelendiğinde teknik olarak jean olmadıkları görülür. Bunun yerine bu geniş paçalı pantolonlarda, denim optik yanılsaması yaratmak için dijital foto gerçek baskı kullanılır. Fransızcada "göz aldanması" veya "göz hilesi" anlamına gelen Trompe l'oeil, bakan kişiye bir görüntünün gerçekte olmadığı halde var olduğu yanılsamasını vermek için akıllı 3D görseller kullanan bir sanat tekniğidir. Rafineri 29'a göre, bu sanatsal tekniğin temelleri, sürrealizmin gelişiminde önemli figürler olan Elsa Schiaparelli, Jean Cocteau ve Salvador Dalí gibi kreatörler sayesinde neredeyse 100 yıl önce atıldı. Ancak Maison Martin Margiela, Comme des Garçons, Gucci, Fendi ve Moschino gibi büyük tasarımcıların bu etkileyici efektle ilgilenmeye başlamasıyla bu tekniğin yaygınlaşıp gerçekten sıçrama yaptığı yer moda dünyası oldu. Jean Paul Gaultier'in 90'ların başındaki koleksiyonlarından kötü ünlenmiş vücut baskıları belki de bu tekniğin en ikonik örneklerindendir.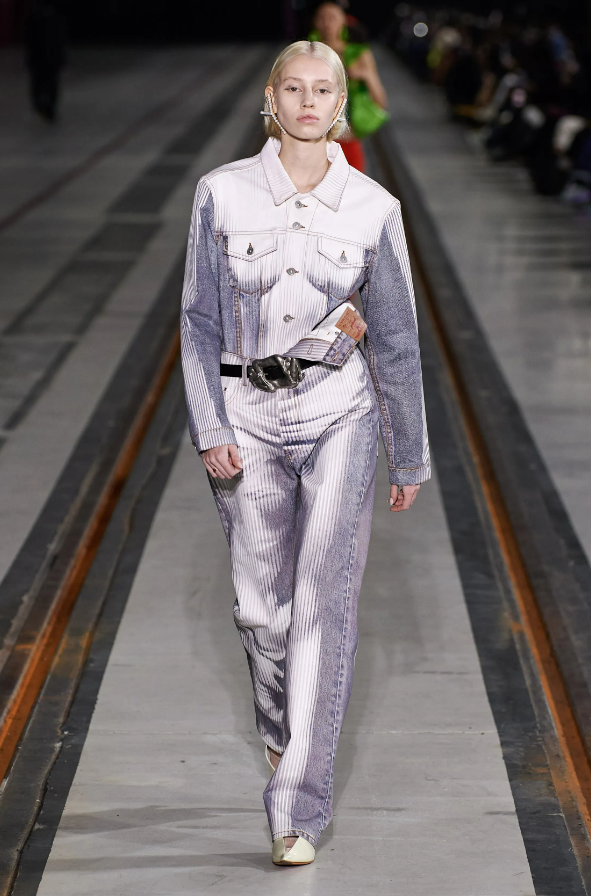 Denim kumaşlardaki bu sürrealist yöntemler, tüketicilerin, karantina döneminde alıştıkları eşofman altı ve yoga pantolonlarının sağladığı cilt üzerindeki rahatlık hissini tamamlamak için giderek artan bir şekilde yumuşak kumaşlı denim aramaları üzerine, pandemi sonrası artan konfor talebini yakalamanın bir yolu olarak kullanıldı. Birçok denim markası, geliştirilmiş esneklik ve yumuşaklık sunan yeni kumaşlarla bu değişimin üstesinden geliyor. Örneğin, Çalık Denim'in hareket özgürlüğünü artıran ve benzersiz güçlü bir esneklik vaat eden E-Last ve Flextend kumaşları. Birçok marka ise denimin zahmetsiz havalı görünümünü rahat, yumuşak malzemelerle akıllıca birleştirmenin bir yolu olarak bu yeni sahte denim görünümlerinden faydalanıyor.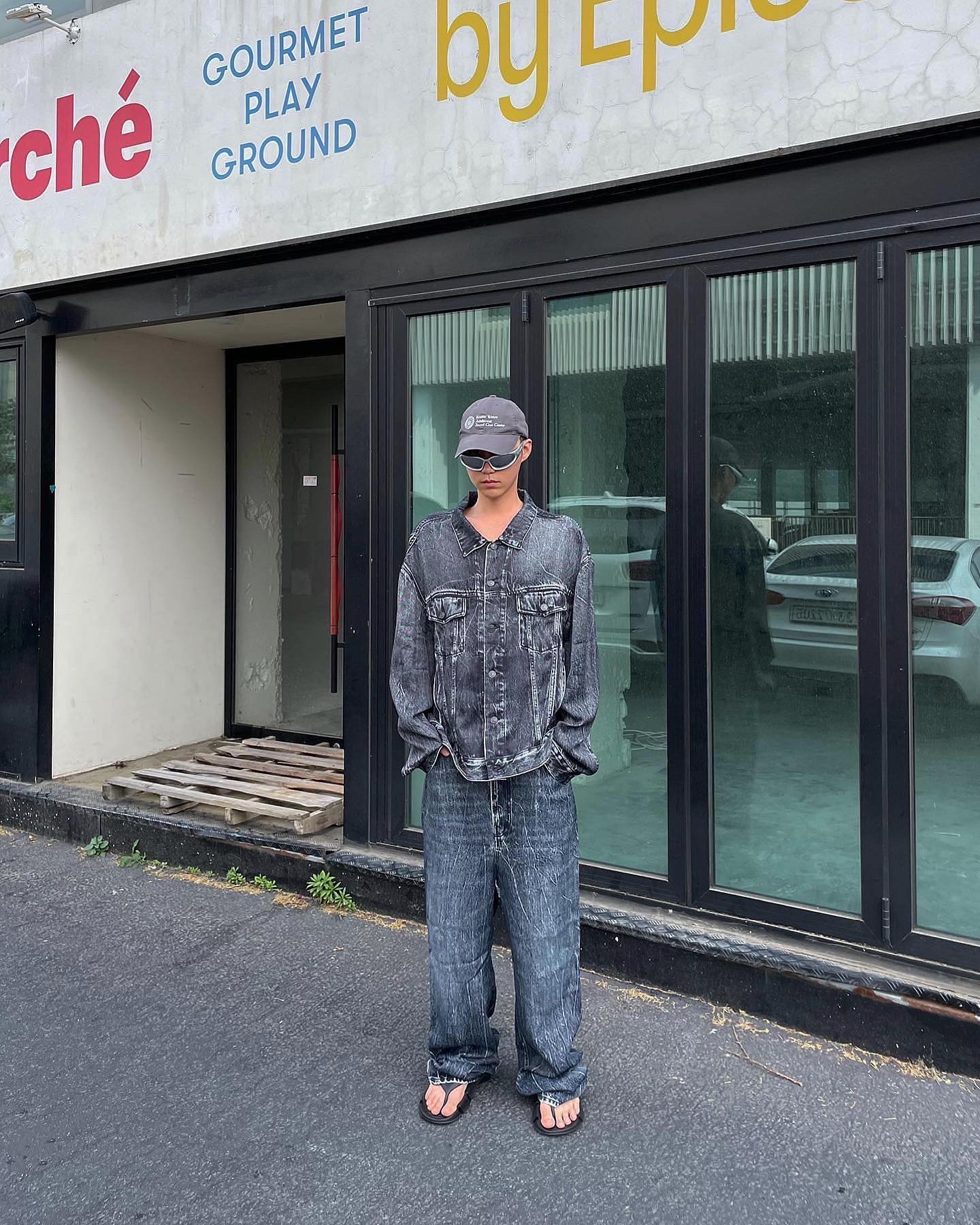 Bu harekete katılan birkaç tasarımcı arasında, baskılı viskon saten kullanarak yaza hazır jean ve oversize denim ceketi ustalıkla tasarlayan Balenciaga'nın yaratıcı direktörü Demna yer alıyor. Bu drape takım, soldurulmuş rengi, kemer köprüleri, 5 cepli stili ve düğmeleri ile tipik bir vintage denim gibi görünüyor, ancak pürüzsüz bir kumaşa sahip. Paris merkezli marka, kendine özgü modern silüetleriyle tanınıyor ve bu sahte denim parçalar, astronomik fiyatlarıyla birlikte (ceket 1.845 USD / bol pantolon 1.105 USD) Demna'nın markanın mirasına sadık kalmasının yollarından biri haline geliyor. Bu göz yanıltan görünümleri araştıran bir başka isim de, Y-Project'deki açısal çalışmaları ve Diesel'deki ticari ve kaotik denimlerine dijital baskılar yapan Glenn Martens. Belçikalı tasarımcı, kendine özgü lüks vizyonunu oluşturmak için jean giyimi anahtar bir bileşen olarak kullandı. Martens, çılgın tasarımları arasında yer alan pamuklu iş tulumu ceketleri, napa ceketler ve kovboy çizmelerini, spor giyimden ilham alan kulüp çocuğu tarzıyla buluşturuyor. Tümü de hayal gücünün sınırlarını zorlama tutkusuyla dolu: çift katlı yakalar, kesik parçalar, jeanin tüm bacağı boyunca devam eden ayak bileği manşetleri.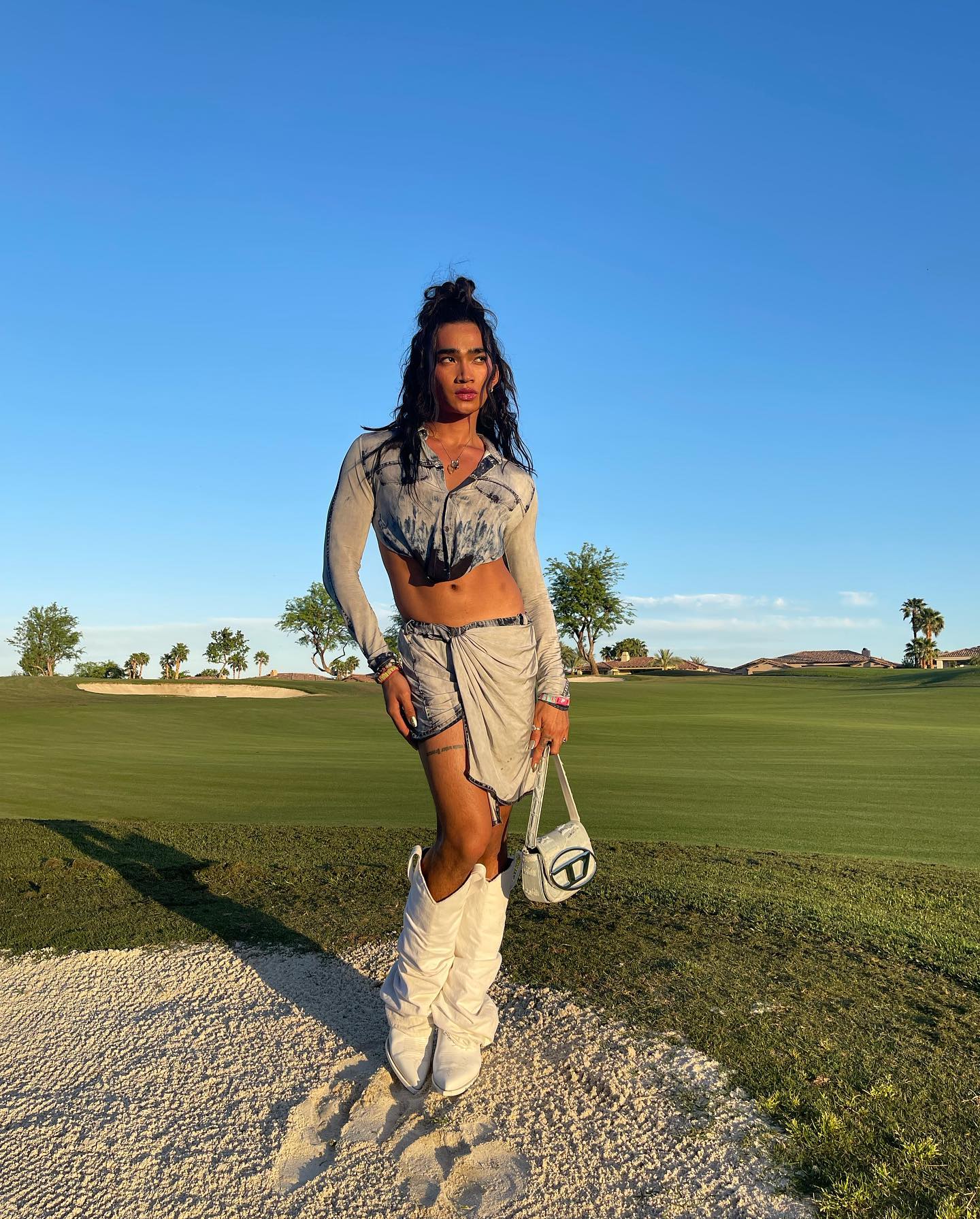 Sıra dışı tasarımları, hem havalı gençler hem de ünlüler için vazgeçilmez hale geldi. Martens'in tasarımlarını viral hale getiren 2018'de Coachella'da kalçalarına kadar gelen UGG botlarını (Kaliforniya markasıyla bir podyum iş birliğinden) giyen Rihanna'ydı. Yakın zamanda GQ'ya konuşan Martens, tasarımlarını yaparken aklında canlandırdığı insanları festivallerde ve gece kulüplerinde gördüğünü belirtti: "Sanırım bunlar giyebileceğimi düşündüğüm ve Paris ve Londra'daki kulüplerde rahatlıkla görebileceğim kıyafetler" Martens'in son dijital baskı denim serisi, geç saatlerde tam olarak bu tür gece hayatı mekanlarında dolaşıyor. Şarkıcı Olivia O'brien Coachella'da Diesel'in vücuda yapışan İtalyan streç jarse üzerine kirli pembe asit yıkama dijital baskılı tek parça tulumunu giydi. Oldukça ünlü influencer Bretman Rock ise Diesel'in tarama, lazer baskı ve kes ve dik tekniklerini kullanarak ağartılmış denim görünümünü yeniden yaratan akışkan fitilli kumaştan uyumlu bir gömlek ve kısa kesim pantolondan oluşan C-Suki setini seçti.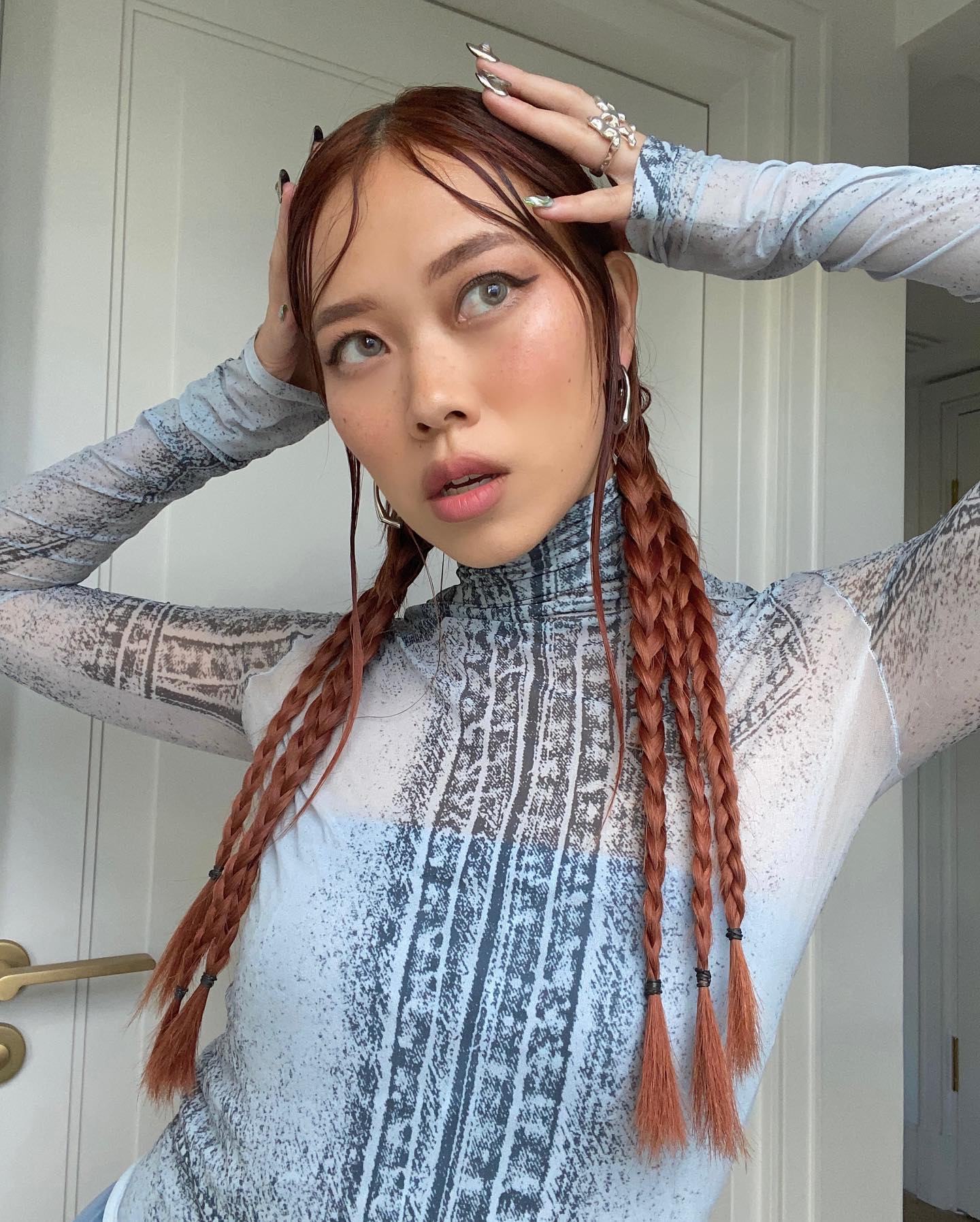 Martens'in optik illüzyonlara olan takıntısının ilham kaynağı, inkar edilemez biçimde, modanın "korkunç çocuğu" olan efsanevi Jean Paul Gaultier'in erken dönem çalışmalarıdır. Aslında, Martens, ortak JPG x Glenn Martens Haute Couture SS22 gösterisinden önce, Jean Paul Gaultier'in zamansız trompe l'oeil baskılarına FW22 Y/Project gösterisinde yer verdi. Canlı, göğüslere odaklı bluzları podyumda tüm vücudu kaplayan denim takımlar ve penis pantolonları ile birleştirdi ve zekice kıvraklıkları tüm çıplaklığıyla podyumda sergiledi. Başka podyumlarda ise bu akıllı denim simyası, eteklerin ön kısımlarına jean baskı basan MM6 Margiela gibi diğer tanınmış tasarımcıların koleksiyonlarında yer alırken, İsveç markası Acne Studios, soyut denim baskılarıyla olduğu kadar dijital baskılı pamuklu üstleri ile ikinci ten görünümü yarattı.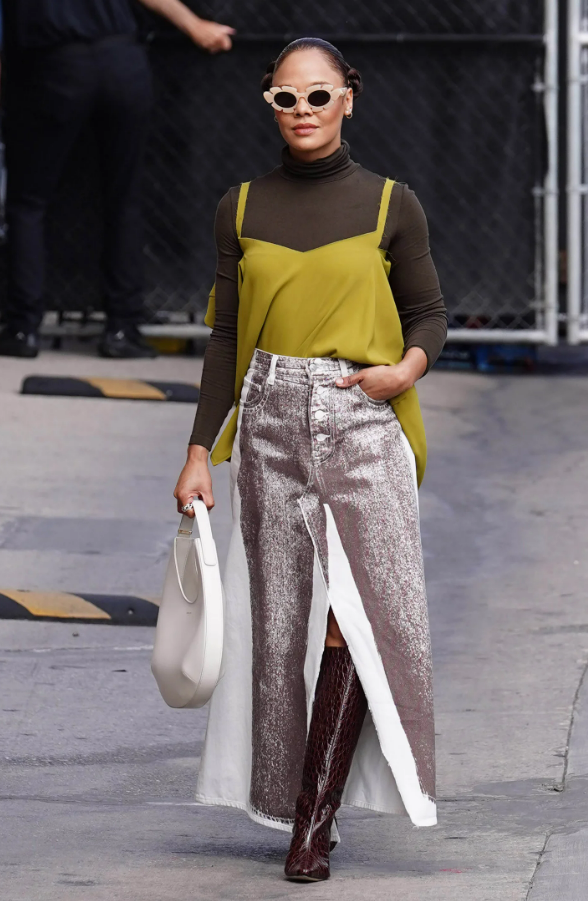 Bu trend sadece kadınlar arasında popüler değil. İsveç markası Our Legacy, klasik 5 cepli pantolonların görünümünü taklit eden lüks dijital denim baskılı jeanleri ile erkekler için de trompe l'oeil efektleriyle büyük başarı elde etti. Tasarımcıların arşivinden doğrudan referans alan bu pamuklu fitilli pantolonlara uzun süre giyilmiş görünümü verilmek için dijital olarak baskı yapılmış. 370 sterlin'den perakende satışı yapılan bu yepyeni tasarımlar, 2021'de piyasaya sürüldüklerinden bu yana her sezon anında tükeniyor.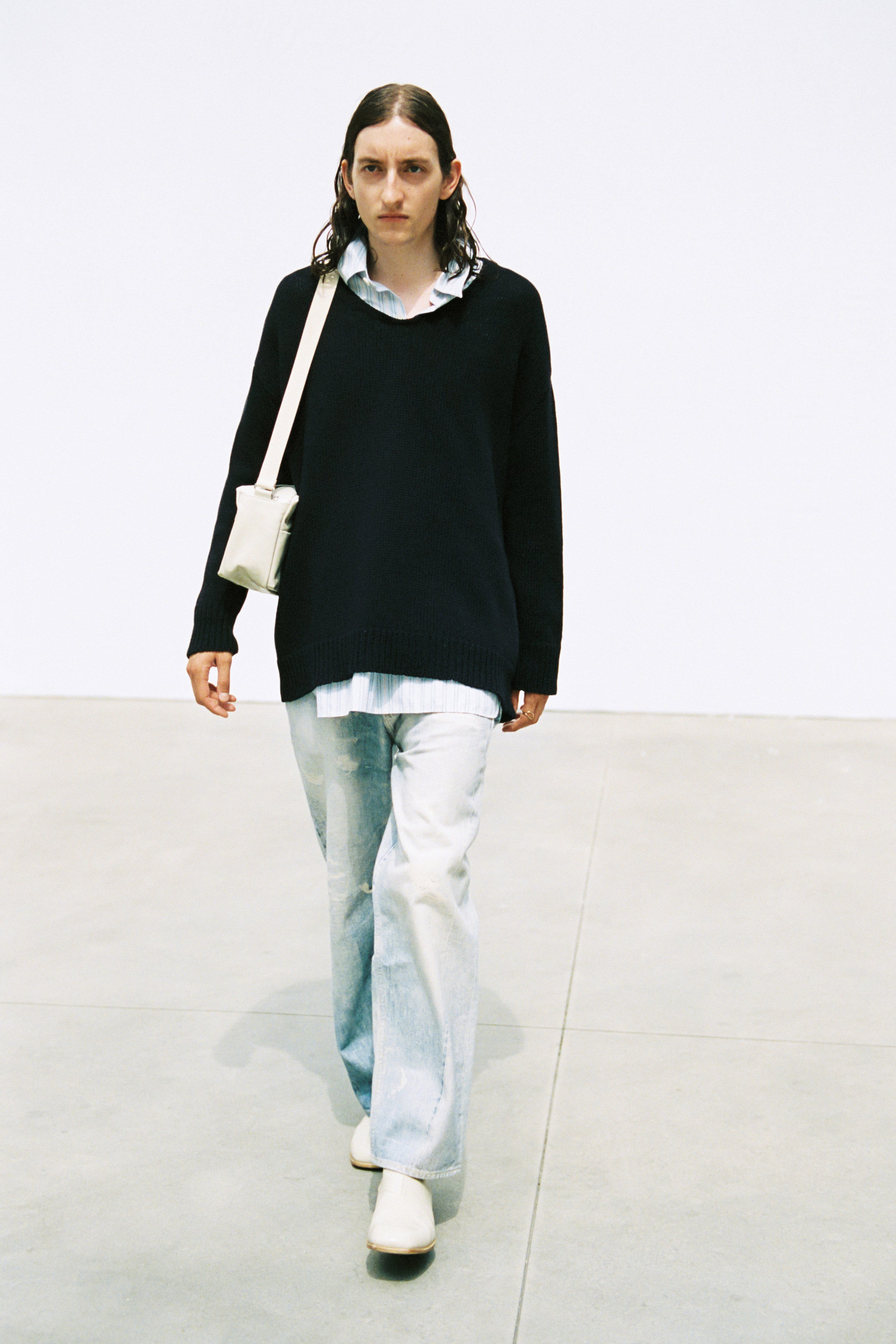 Londra merkezli tasarımcı Bianca Saunders, bu deneysel teknikleri, denim yıkamaya daha duyarlı bir yaklaşım elde etmek için kullandı. Yıkama ve bitirme aşamasında kullanılan kimyasalların etkisinin farkında olan Saunders, bu süreci tamamen ortadan kaldırmanın bir yolu olarak süblimasyon baskılarıyla trompe l'oeil yöntemine başvurdu. Wrangler ile birlikte SS21 için oluşturulan denim parça koleksiyonunda, bir gömlek ve düz kesim jean pantolon üzerine aktarılmış kırışık denim fotoğrafı ile tekstil efektli tekstil ön plana çıktı.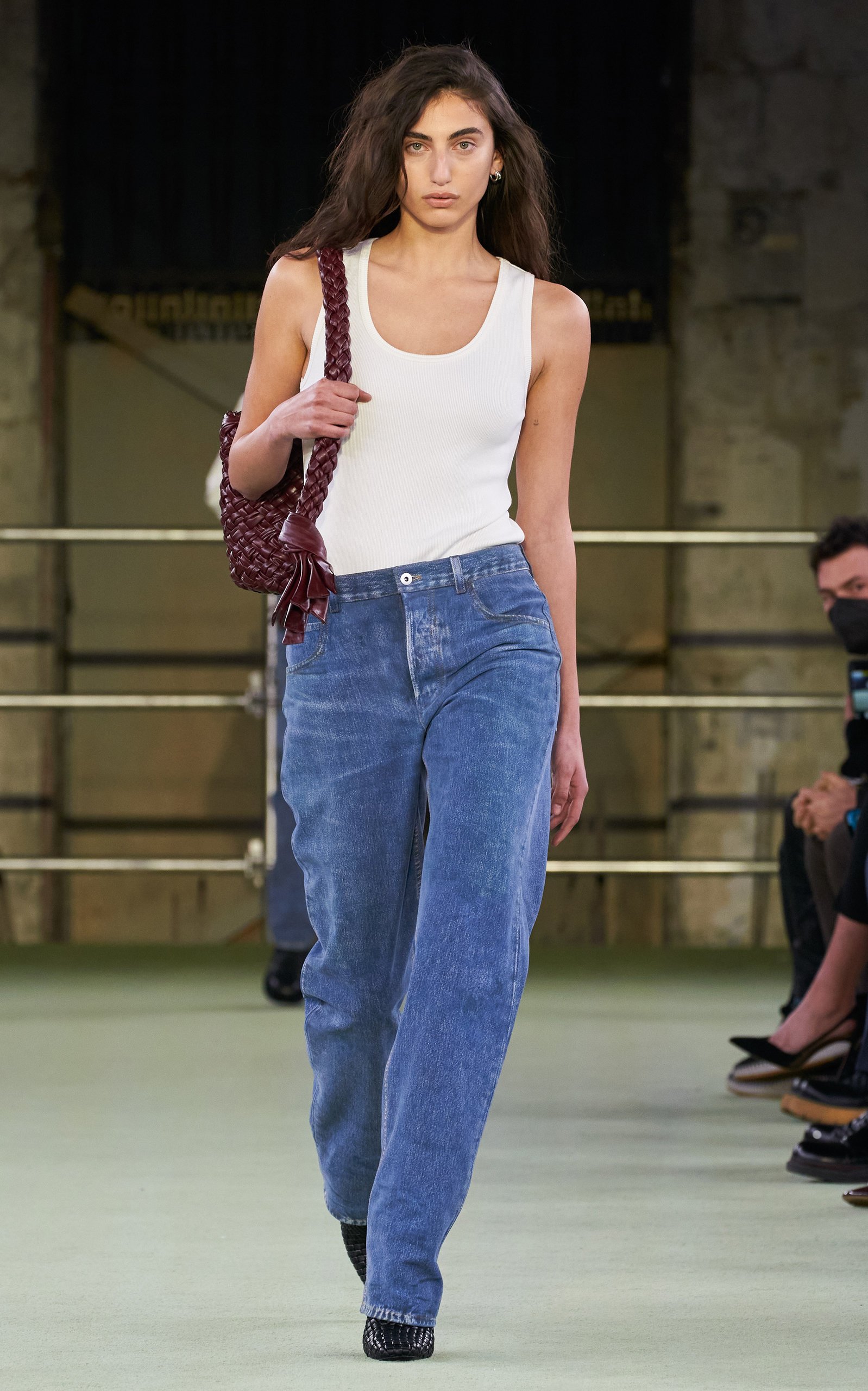 Bununla birlikte, trendin en detaylı yorumlarından biri Bottega Veneta'dan geliyor. Modaevindeki ilk AW22 koleksiyonu için Matthieu Blazy defileyi sade beyaz bir kolsuz bluz ve jean kombini, onun ardından ise gömlek ve ona uygun bir jean giyen genç bir erkekle açtı. Her iki pantolonu da bu kadar özel kılan şey ikisinin de deriden yapılmış olmasıydı. Bottega Veneta markası serüvenine bir el çantası işletmesi olarak başladı; intrecciato türü örme deri çanta ise modaevinin en özel ürünü, ancak modaevinin yeni tasarımcısı jeanlerde kullandığı muhteşem nubukla herkesi şaşırtıp aynı zamanda inceliğini sergiledi. Jeanler, moda haftasında da jean giydikleri görülen Pharrell Williams ve Migos grubundan Offset gibi ünlü müzisyenlerin favorisi haline geldi. İster pandemi sonrası giyinmede rahatlık arayışı, ister 90'ların arşiv tarzına bir selam, ister sırf eğlence için oyunbazlık duygusunu modaya geri getirme olsun sahte denimin sükse yaptığını inkar etmek mümkün değil. İster gerçek denim giyin ister sadece illüzyonu, denime geri dönmek için pek çok sebebiniz var.
To view full content and a better mobile experience, try
Calik Denim mobile application