The Top 10 Upcycled Denim Brands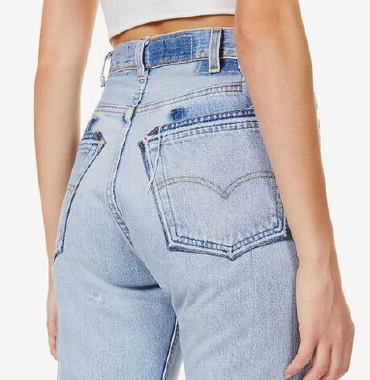 With all of our efforts to close the loop and ensure a maximised life for our clothes, turning a piece of clothing into a higher value item is one of the best ways we can extend the life of a product.
With all of our efforts to close the loop and ensure a maximised life for our clothes, turning a piece of clothing into a higher value item is one of the best ways we can extend the life of a product. This is otherwise known as upcycling and there are a plethora of brands who are taking something old and using their creative design skills to reimagine a piece otherwise destined for the landfill. But, upcycling requires the perfect balance of out of the box thinking and elegance to create a tasteful and wearable item for the masses. It is especially challenging in denim to strike this balance. So, we're rounding up the top ten upcycled denim brands that are challenging the crafty aesthetic that upcycled denim is known for. We're calling these brands: classy not crafty.
1. E.L.V. Denim
E.L.V Denim first caught my eye with their high quality upcycled denim designs at London Fashion Week a few years ago. But, as I got to know the brand and company better, I realised there was more to it than making waste beautiful. By striving to have as low a footprint as possible, E.L.V. Denim also actively supports the local maker community with its 5-step supply chain. The first step is sourcing the pieces needed to fill an order (no overproduction). Next, the family launderer comes in their electric car to wash the pre-loved jeans. The washed jeans are then repaired and paired by the E.L.V. team and taken to Black Horse Lane down the road. Leather labels are the waste from a leather manufacturer, and any waste goes to made-to-order kid's jeans, Ian Berry, or local uni's. Everything is within a 5-mile radius keeping the carbon footprint low while working with the local community.
2. EB Denim
EB Denim is rooted in the reconstruction of vintage, made in America Levi 501s. Each pair of jeans is hand picked one by one and reconstructed all within downtown Los Angeles, California. On top of this, EB Denim recycle all excess materials for other designs with not one piece going to waste.
3. Marine Serre
Marine Serre's commitment to sustainability has been influential on the runway and has focused on regenerating old materials. In 2020, 50% of the entire collection was upcycled and has continued to increase the amount of deadstock and regenerated materials. "Generally, the process starts with research in dead-stocks or second-hand stores; if the material found is interesting and fits the collection it gets selected. The second part is then about finding the best way to use and treat the fabrics and materials." - Marine Serre
4. B Sides Jeans
B Side Jeans gets its name from the B side of a record where the complex songs that true connoisseurs appreciate most. In this same sense, B Sides Jeans is obsessed with the beauty of imperfection. Founded by two long time friends who began collecting antique denim and reworking them, B Sides has evolved into offering new denim as well.
5. Blue of a Kind
Blue Of A Kind upcycles the defects, samples, and deadstock pieces into beautifully tailored pieces. Rather than sourcing vintage garments like the previous brands we've mentioned, it is very unique to look to solving mill waste in which samples account for a lot of.
6. Ksenia Schneider
Forbes USA has called KSENIASCHNAIDER an advocate for sustainable fashion in Eastern Europe. The designer family duo, Ksenia and Anton Schnaider, are the masterminds behind the brand and are constantly working hand in hand thinking up pieces that combine reworked materials, perfect silhouettes, Eastern European cultural quotes and spices it up with innovative digital concepts.
7. Atelier & Repairs
Atelier & Repairs is "an initiative to lead the movement of excess reduction towards a renewed circular standard-one stitch at a time." They re-engineer and redesign reclaimed garments and textiles from vintage sources or manufacturers, giving each item's existence the highest possible value, for as long as possible.
8. Shop Redone
RE/DONE started when the two founders realised there was a major gap in the market for perfectly tailored, vintage Levi's. After constantly hearing women have to sacrifice the personality of a jean for shape, RE/DONE launched in 2014 with the concept of taking something old and making it new again. The success of RE/DONE came from their perfect fits and a growing market for vintage denim.
9. And Again
And Again is a sustainable luxury brand built on upcycling vintage denim and deadstock materials with the mission of blending art, fashion and sustainability. All garments are sewn by hand in Los Angeles from deadstock, reclaimed or US-sourced organic cotton and follow zero-waste manufacturing techniques.
10. Mad mfg.
Mad is a local Toronto brand that has built their brand on upcycling. Their most recent collection features upcycled denim ball caps and bottoms that perfectly fuse the classy yet crafty aesthetic. With creative and elegant designs, upcycled denim garments can be extremely wearable and is one of the best ways we can add value to clothes that might have ended up in the landfill. But, when we can't upcycle an item any further, it is important for mills like Calik Denim to recycle unwanted garments into new fabrics continuing the life of that piece evolving into something new. That should be the circle of a fabric's life. That's a wrap on the Top 10 Upcycled Denim brands and… 2021! Happy New Year denim lovers.
En İyi 10 İleri Dönüşüm Denim Markası
Bir ürünün ömrünü uzatmanın en iyi yollarından biri, döngüyü kapatmak ve giysilerimizin ömrünü maksimize etmek için tüm çabamızla, bir giysiyi daha değerli bir öğeye dönüştürmektir. Bu süreç, ileri dönüşüm(upcycling) olarak da bilinir. Çöpe gidecek bir eşyayı yaratıcı tasarım becerilerini kullanarak yeniden kullanılabilecek hale getiren çok sayıda marka var. Ancak, ileri dönüşüm, birçok insana hitap eden ve giyilebilir bir ürün yaratmak adına yaratıcı düşünme ve zarafetin dengeli birleşimini gerektirir. Özellikle denimde bu dengeyi sağlamak zordur. Bu yüzden, ileri dönüştürülmüş denimin gösterişli tasarım sınırlarını zorlayan en iyi on ileri dönüşüm denim markasını sizler için derledik. Biz bu markalara gösterişli değil de şık demeyi tercih ediyoruz.
1. E.L.V. Denim
E.L.V Denim, birkaç yıl önce Londra Moda Haftası'nda yüksek kaliteli ileri dönüştürülmüş denim tasarımlarıyla ilk kez gözüme çarptı. Ancak, markayı ve şirketi daha iyi tanıdıkça, çöpe atılacakları güzelleştirmekten daha fazlasını yaptıklarını fark ettim. Mümkün olduğu kadar düşük karbon ayak izi ile çalışan E.L.V. Denim, 5 aşamalı tedarik zinciri ile yerel üretici topluluğunu da aktif olarak destekliyor. İlk etapta, bir siparişi tamamlamak için gereken parçaları tedarik ediyorlar(aşırı üretim olmadan). Daha sonra yıkamacı aileler ikinci el jeanleri yıkamak için elektrikli arabasıyla geliyor. Yıkanan jeanler daha sonra E.L.V. ekibi tarafından tamir edilip eşleştiriliyor; ardından yolun aşağısındaki Black Horse Lane atölyesine götürülüyor. Deri üreticilerinin atıklarından yapılan deri etiketler, sipariş üzerine yapılan çocuk jeanlerine, Ian Berry'ye veya etraftaki üniversitelere değerlendirilmek üzere gönderiliyor. Yerel toplulukla birlikte çalışırken aynı zamanda karbon ayak izini düşük tutarak tüm bunları 5 millik bir alanda gerçekleştirmiş oluyorlar.
2. EB Denim
EB Denim, Amerika menşeili vintage Levi 501'lerin yeniden yapılmasına dayanıyor. Her jean tek tek elle seçilip Los Angeles, Kaliforniya şehir merkezinde yeniden yapılıyor. Bunun üzerine, EB Denim, yapılacak diğer tasarımlar için tüm fazla malzemeleri tek bir parça boşa gitmeyecek şekilde geri dönüştürüyor.
3. Marine Serre
Marine Serre'nin sürdürülebilirliğe olan bağlılığı defilelerde etkisini göstermiş ve eski malzemelerin yenilenmesine odaklanmıştır. 2020 yılında, tüm koleksiyonun %50'si ileri dönüştürüldü. Ayrıca satılmayan malların değerlendirilmesini ve yenilenmiş malzeme miktarını da artırılmaya devam etti. "Genel olarak, süreç satılmayan malları veya ikinci el mağazaları araştırmakla başlıyor; bulunan materyal ilginçse ve koleksiyona uygunsa seçiliyor. İkinci aşama ise kumaşları ve malzemeleri kullanmanın ve işlemenin en iyi yolunu bulmakla ilgilidir." - Marine Serre
4. B Sides Jeans
B Sides Jeans, adını müzik meraklılarının en çok takdir ettiği karmaşık şarkıların bulunduğu plağın B yüzünden alıyor. Bu bağlamda, B Sides Jeans kusurların güzelliğine odaklı diyebiliriz. Antika denim toplamaya ve onları yeniden işlemeye başlayan iki eski arkadaş tarafından kurulan B Sides, yeni jean de satıyor.
5. Blue of a Kind
Blue Of A Kind, defolu, numune olan ve satılmayan mallları güzelce dikilmiş parçalara dönüştürüyor. Bahsettiğimiz önceki markalar gibi vintage kıyafetler tedarik etmek yerine numunelerin çok fazla olduğu yapımevi atıkları ile çalışarak benzersiz bir iş ortaya çıkarıyor.
6. Ksenia Schneider
Forbes USA, KSENİASCHNAİDER'İ Doğu Avrupa'da sürdürülebilir modanın savunucusu olarak nitelendirdi. Markanın kurucuları tasarımcı çift, Ksenia ve Anton Schnaider; elden geçirilmiş malzemeleri, mükemmel silüetleri, Doğu Avrupa'dan kültürel esintileri birleştiren ve yenilikçi dijital konseptlerle renklendiren parçalar üzerinde sürekli el ele çalışıyorlar.
7. Atelier & Repairs
Atelier & Repairs "her seferinde bir dikiş ile yenilenen döngüsel bir standarda doğru aşırı azalma hareketine öncülük eden bir girişimdir." Eski kaynaklardan veya üreticilerden edindikleri geri kazanılmış giysi ve kumaşları yeniden tasarlayarak her bir ürünün varlığına mümkün olan en yüksek değeri, mümkün olabilecek en uzun süre ile vermeyi başarıyorlar.
8. Shop Redone
RE/DONE'ın hikâyesi iki kurucunun, üste tam oturan, vintage Levi's pantolonlar için pazarda büyük bir boşluk olduğunu fark etmesi ile başladı. Kadınların şekil nedeniyle jeanin kişiliğini feda etmek zorunda kaldıklarını devamlı olarak duyduktan sonra, RE/DONE, 2014 yılında "eskiyi alıp tekrar yenileştir" konsepti altında kuruldu. RE/Done'nın başarısı, üste tam oturan jeanler satmalarından ve vintage denim için büyüyen bir pazar olmasından geliyor.
9. And Again
And Again, sanat, moda ve sürdürülebilirliği harmanlama misyonuyla vintage denim ve satılmamış ürünlerin ileri dönüşüm üzerine inşa edilmiş sürdürülebilir lüks bir markadır. Tüm giysiler, Los Angeles'ta satılmamış ürünlerden, geri kazanılmış veya ABD kaynaklı organik pamuktan elle dikiliyor ve sıfır atık üretim teknikleriyle üretiliyorlar.
10. Mad mgf
Mad, markalarını ileri dönüşüm üzerine inşa eden yerel bir Toronto markasıdır. En son koleksiyonlarında şık ama hileli tasarımı kusursuz şekilde birleştiren ileri dönüştürülmüş denim beyzbol şapkaları ve alt giyim parçalarını görüyoruz. Yaratıcı ve zarif tasarımlarla, ileri dönüştürülmüş denim kıyafetler son derece giyilebilir hale gelebilir ve çöpe gidecek kıyafetlere değer katabilmemizin en iyi yollarından biridir. Ancak, bir ürünü daha fazla ileri dönüştüremediğimizde, Çalık Denim gibi denim üreticilerinin istenmeyen giysileri yeni kumaşlara dönüştürmeleri, bu parçanın ömrünü yeni bir şeye dönüştürerek devam ettirmeleri önemlidir. Bir kumaşın yaşam döngüsü bu şekilde olmalıdır. Bu da En İyi 10 İleri Dönüşüm Denim Markası'nın ve 2021'in bir özeti olsun! Yeni Yılınız Kutlu Olsun Denim Severler!
To view full content and a better mobile experience, try
Calik Denim mobile application