Ever Evolving Talks By Calik Denim Sheds Light On The Future For The Second Time!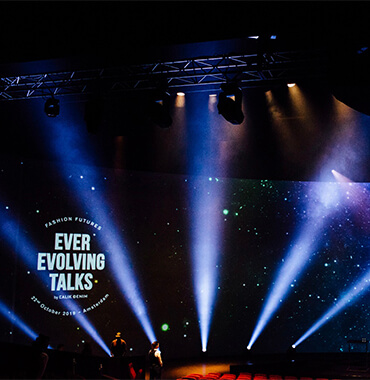 With over 350 visitors from all over the world, the 2019 edition of the annual Ever Evolving Talks by Calik Denim event was a huge success.
Over the course of one day, the fashion industry gathered in Amsterdam to discuss topics such as transparency and blockchain system, GEN Z as a consumer, climate change, responsible fashion and how these topics can change both the industry and the world. Designed to be a live platform for thoughts and ideas and a stage for future insights, Ever Evolving Talks by Calik Denim has rapidly become a stronghold of original ideas and a cultural melting pot that does not only have an impact on the fashion industry, but also has other industries looking towards the fashion industry for original ideas and innovations to build a sustainable future for everybody. With its second edition Ever Evolving Talks by Calik Denim has truly become a beacon that shines a light on a possible future, today. Moderator BJ Cunningham presented noteworthy talks by Matt Britton, who connected the dots between the Millenial & Gen Z consumer culture and business trends of tomorrow. "Large companies are moving to cities to be closer to their consumers and the young consumers want to be the CEO of themselves,", said Britton. "GEN Z is everything GEN Y had and more, they are the most sophisticated consumer ever. TV is a basically a giant iPad on your wall." Jessi Baker, Founder and CEO of Provenance, who explained how blockchain can revolutionize supply chain transparency. "We believe every product should come with accessible, trustworthy information about the origin, journey and impact. We use tech to enable great brand to make their supply chains and impact transparent with integrity. If materials are unknown and unvalued, they are wasted." Nathan Gilbert and Bert van Son talked about how business can be about so much more than making money. About his company Mud Jeans Bert Van Son told the audience: "We have created a company where we try to do it better with every step we take. For a month now we have been delivering our denim with bike couriers. We have only one supplier for the jeans and one supplier for the denim. We are proving to larger companies it can be done. That's why transparency in your supply chain is so important. Feel free to copy us!" Tamsin Blanchard, Priya Ahluwalia, Bethany Williams and Imogen Wright discussed responsible female leadership. "Everyone can find their own way to be strong, but I think the female empowerment is getting better in the business industry, you see at lot more female CEO's today. My challenge is to grow strong and steady," said Imogen Wright, while Bethany Williams called the 'sustainability' boring. "I talk about my designs and techniques rather then using this word." Priya Ahluwalia: "I want to make clothes people have not seen before, not like a bamboo t-shirt. I make forward thinking clothes, by looking back." Former NFL Player and NASA Astronaut Leland Devon Melvin took both moderator Dio Kurazawa and the audience along with him to outer space to show them the way climate change is changing our planet and how we should think about the way we use products. "I'm asking myself this question; what is my role to inspire the next generation. My parents were school teachers and I saw how they transformed the community around them, representation does matter. I've had this suit since 1988, sometimes it has a funny aroma but it still functions. At NASA we purpose and re-use things. We are rebuilding the astronaut suits and after every mission we have a debrief so we keep innovating." About the event Calik Denim CEO Fatih Dogan says: "Now in its second year, Ever Evolving Talks by Calik Denim has become a platform where we synthesize and present different point of views, experiences and the future over the course of one inspiring and thought provoking day. We touch on many different areas such as the future, our planet, innovation, new technologies and sustainability, with a focus on new generations and consumer behaviour, global trends and collaborations. The event welcomes audiences from both denim and other international sectors. Anyone who is part of – or touches – the world of fashion world can participate. Brands, garment manufacturers, suppliers, the press, academicians and students… Therefore, we believe in the importance of this event. Its values will advance both the sector and the world in which we live." Ever Evolving Talks by Calik Denim will be back in 2020. The third edition of the annual event will be held on 27th October 2020.
---
---
To view full content and a better mobile experience, try
Calik Denim mobile application