The Importance of Denim Branding on a Pair of Jeans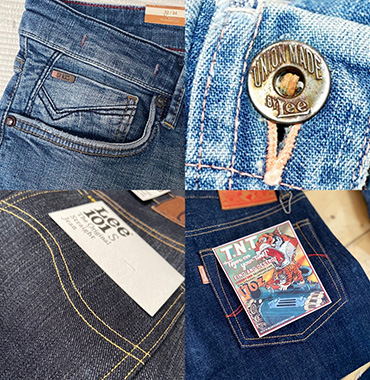 Branding on pair of blue jeans goes way back. In fact, most brands branded their jeans already since day one, to distinguish themself from the rest in the market. The main reason for branding on jeans is that consumers know what brand they're buying in a store, and it's also a marketing tool of course when people started walking around in their jeans or denim jacket.
Branding Gives Character to a Pair of Jeans Branding on pair of blue jeans goes way back. In fact, most brands branded their jeans already since day one, to distinguish themself from the rest in the market. The main reason for branding on jeans is that consumers know what brand they're buying in a store, and it's also a marketing tool of course when people started walking around in their jeans or denim jacket. Some say that without branding on these garments, they have no character as branding gives a certain feeling that is linked to the storytelling and brand DNA around a brand. The Two-Horse Branding Design One of the most famous branding elements is from Levi's. Although they started making pairs of jeans already before 1886, it was this specific year that they came with the 'Two Horse' branding design on the patches on the back of their jeans. The 'Two Horse' design was used to market their jeans, so the brand used it also in all their marketing activities, they even painted it on wooden houses to boost their brand. The 'Two Horse' design was born to show consumers how strong their jeans are, therefore the design shows two horses trying to pull a pair of jeans apart, without success. Soon, this design became such a strong branding element (and the reason why people wanted to have a pair of Levi's) that a lot of people didn't use the word Levi's when they were in a store, but asked for a pair of 'Two Horse' jeans. Talking about the importance of branding.
The Different Branding Elements Sometimes branding is also one of the key features to make a pair of jeans extra special. Imagine if you take off all the branding elements such as labels, buttons, customized rivets, patches, printed pocketing, pocket flashers, and so on, most of the jeans will look the same. Especially when we are zooming in on the classic five-pocket design. The branding elements on jeans make the difference and are also perfect to market the jeans. For example, the stitching on back pockets is such a strong tool to show from a distance what kind of brand someone is wearing. Branding can also be part of the design face of a pair of jeans. Some brands use for example special stitching, pocketing, or cut and sewn lines on their jeans that make them truly unique, and people recognize a specific brand by seeing it through these outstanding design elements. It can also be that a brand uses its labels on a not common place, or a typically developed rivet or button. Or using these elements in a certain color. They're all made to make them extra special. Without Branding No Face It isn't that easy to create typical branding elements on jeans that stand out and shows where the brand is standing for. But, it is important as communication is key to market your product. Every brand wants to reach its target audience, and the correct branding elements on jeans is part of the positioning of your brand, and therefore to reach your customers. You can say that without branding your jeans don't have a 'face'. And there's nothing more important than to have your own identity as a brand nowadays.
Branding Goes Further Than Only On The Jeans Itself Most people want to be part of a certain feeling of a brand. The feeling a brand creates to express themselves via their marketing activities in magazines, social media, tv commercials, and instore at denim stores. When buying a pair of jeans, you want to be part of the community around that specific pair of jeans. You want to buy a piece of that coolness, or sustainable approach, or strong story that is attached to that jeans or brand. Some brands go further than others in branding. You can, for example, give a small present that is attached to your jeans, like a key hanger that is fastened on a belt loop, or a repair kit that is included to do future repairings yourself, or a necklace or wallet that comes with a jeans. You can even wrap your jeans in a special paper or wooden branded box to make your jeans purchase extra special. This gives an extra special feeling when buying a new pair of jeans. And it helps the brand to share its story more easily, and the sharing of unique brand values.
Branding is More Important Than Ever As said, branding on jeans goes way back. Actually, it was since the beginning, but it seems that branding is more important than ever. Especially as there are so many brands these days, and it isn't always that easy to pick the right pair for you. Of course, the fit is key, fabric, and finish is important too, and not to forget the price point, but the correct branding is a must to survive as a brand. Branding gives extra added value, and more importantly, a soul to a pair of jeans!
Jean Üzerindeki Denim Marka Unsurlarının Önemi
Marka Unsurları, Jean'e Karakter Kazandırıyor Jean üzerine marka unsuru uygulamasının geçmişi eski yıllara dek uzanıyor. Esasen birçok marka ilk günden itibaren jeanlerine kendi marka etiketlerini basarak rakiplerinden farklılaşma yoluna gitti. Jean üzerine marka unsurları uygulanmasının en temel sebebi, tüketicilerin mağazaya girdiklerinde hangi markaya ait ürünü aldıklarını bilmelerini sağlamaktır. Marka etiketi ayrıca, jeanleri veya denim ceketleriyle sokağa çıkan insan sayısının artmasıyla birlikte bir pazarlama aracına dönüşmüştür. Kimilerine göre giysi üzerinde marka unsuru olmadığında ürünün karakteri de olmuyor. Çünkü bu unsurların markanın hikayesi ve genetiğiyle ilişkili bir doğası var. İki Atlı Marka Etiketi Tasarımı En ünlü marka unsurlarından biri Levi's markasına ait. Marka, jean üretmeye yıllar önce başlamış olsa da, jeanin arka kısmına "İki Atlı" marka etiketi tasarımının uygulanması 1886 yılına tekabül ediyor. Bu "İki Atlı" tasarım ile jeanlerini pazarlayan marka, tüm pazarlama faaliyetlerinde bu etiketi kullandı. Hatta markalarını tanıtımını yapmak için bu etiketleri ahşap atların üzerine çizdiler. "İki Atlı" tasarımı, tüketicilere jeanlerinin ne denli güçlü olduğunu gösterme gayesinden doğdu. Bu tasarımda, bir jean pantolonu ikiye bölmek için iki yanından ters yöne çeken iki atın başarısızlığı görülüyor. Tasarım zamanla o denli güçlü bir marka unsuruna dönüştü ki, insanların bir Levi's jean almak istemelerinin başlıca sebebi haline geldi. Öyle ki, artık insanlar mağazaya girdiklerinde Levi's adını geçirmiyor, "İki Atlı" jeanden almak istediklerini söylüyorlardı. Markalaşmanın öneminden bahsediliyor.
Çeşitli Marka Unsurları Bazen marka unsuru, bir jean'in önemini arttırmanın en temel yollarından biri haline gelir. Bir markayı jakron, düğme, özgün rivet, yama, baskılı cep, arka cep etiketi gibi birçok özgün unsurdan arındırdığınızı hayal edin. Özellikle de klasik beş cepli tasarımı düşünün. Bir jean üzerindeki marka unsurları, fark yaratan unsurlar olarak karşımıza çıkar. Üstelik, jeanin pazarlanmasında da önemli bir rol oynar. Örneğin arka ceplerdeki dikiş detayı, bir kişinin hangi marka jean giydiğini uzak mesafeden dahi belli eden son derece güçlü bir araçtır. Marka unsurları, bir jean'in tasarım yüzünün bir parçası da olabilir. Örneğin bazı markalar, jeanleri üzerindeki özel dikiş türleri ve hatları, cep veya kesim uygulamalarıyla ürünlerine tam bir özgünlük katar, insanlar da bir markayı bu ayırt edici tasarım unsurlarıyla özdeşleştirir. Bir marka ayrıca, marka etiket unsurunu tipik uygulama yerinden farklı bir konumda, veya özel bir rivet ya da düğme üzerine de kullanabilir. Ya da bu unsurlar için özel bir renk tercih edebilir. Tüm bunlar, marka unsurunu daha da özel hale getirir.
Marka Unsuru, Bir Markanın Yüzüdür Jean üzerinde göze çarpan ve marka pozisyonunu gösteren tipik marka unsurları oluşturmak o kadar da kolay değildir. Öte yandan, iletişimin ürün pazarlamasındaki kilit rolünü göz önüne aldığımızda önemi ortaya çıkar. Her marka hedef kitlesine ulaşmayı arzu eder. Jean üzerindeki marka unsurların doğru kullanımı da markanızı konumlandırma, dolayısıyla müşterilerinize ulaşma gayretinizin önemli bir parçasıdır. Marka unsuru olmayan jeaninizin bir "yüzü" de olmadığını söyleyebiliriz. Öte yandan, günümüzde bir markanın kendi kimliğinin olması her şeyden daha önemli. Marka Unsuru, Jean'in Üzerindeki Bir Detay Olmaktan Çok Daha Ötesi Birçok kişi, bir markanın parçası olma hissine sahip olmayı arzuluyor. Sahip olmak istedikleri bu his, bir markanın dergilerde, sosyal medyada, TV reklamlarında ve denim dükkanlarındaki pazarlama faaliyetlerinde kendisini ifade etme şekline bağlı olarak yarattığı o his. Bir jean almaya kalktığınızda, o jean etrafında oluşan topluluğun da bir parçası olmak istiyorsunuz. O havayı, sürdürülebilir yaklaşımı veya söz konusu jeane ya da markanın güçlü hikayesini solumak istiyorsunuz. Bazı markalar marka unsuru konusunda rakiplerinden öteye gidiyor. Örneğin jeaninizle ilgili olarak, kemer köprüsüne asılan bir anahtarlık veya gelecekteki tamiratlarda kullanabileceğiniz bir tamir seti, veya jeanle kombine edilmiş bir kolye veya cüzdan gibi diğer ürünler de satın alınabiliyor. Hatta jean alışverişinizi daha özel hale getirmek için ürününüzü özel bir kağıda sarabilir, veya etiket basılı ahşap bir kutuya koyabilirsiniz. Böylece, aldığınız yeni jean size çok daha özel bir his katacaktır. Bu ayrıca, markanın hikayesini daha kolay bir şekilde ifade etmesine ve özgün marka değerlerini paylamasına da yardımcı olur.
Marka Unsurları Artık Eskisinden Çok Daha Önemli Daha önce de belirttiğimiz gibi, jean üzerine marka unsuru uygulamasının geçmişi eski yıllara dek uzanıyor. Aslında en başından beri var olsalar da, günümüzde marka unsurlarının her zamankinden daha önemli hale geldiği görülüyor. Özellikle de günümüzde çok fazla sayıda markanın mevcut olduğunu düşündüğümüzde, sizin için doğru ürünü bulmak o kadar da kolay olmayabiliyor. Elbette jeanin modeli, kumaşı ve son dokunuş detayları çok önemli, fiyat unsurunu da unutmamak gerek, ancak bir markanın hayatta kalmasının en önemli dayanağı, doğru marka unsurlarının kullanımında yatıyor. Marka unsurları jean'e ekstra değer kazandırıyor, daha da önemlisi, ona ruh katıyor!
To view full content and a better mobile experience, try
Calik Denim mobile application
Tags