The basics to buy your new (beloved) pair of jeans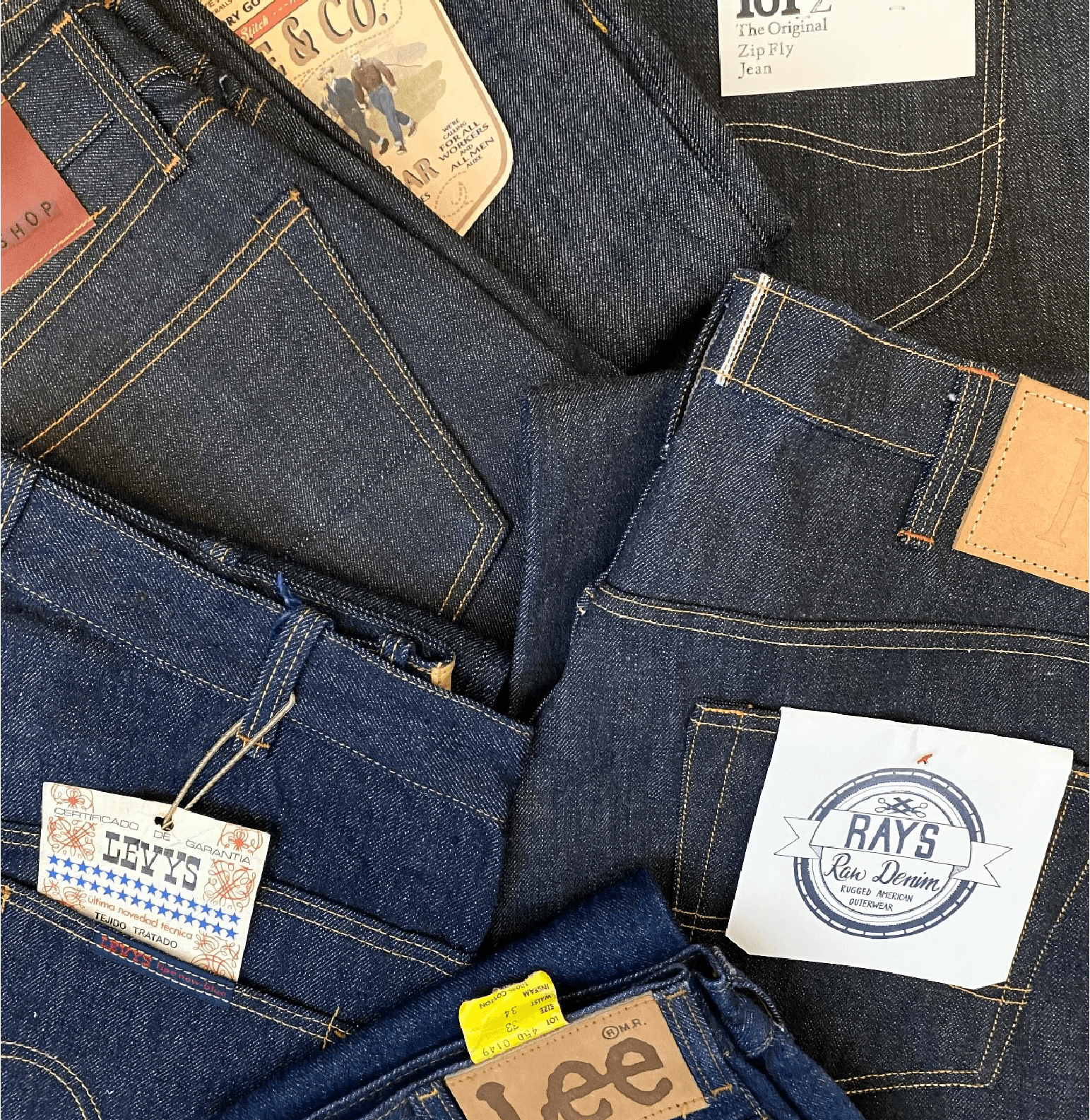 Trends come and trends go each season. That's not only with fashion, that's also the case with denim.
Trends come and trends go each season. That's not only with fashion, that's also the case with denim. While denim is a classic and will be here for always, some influences reflect on the collections, and styles each time. But whether the denim trend is about tapered, slim, boyfriend, high-waist, regular, or baggy styles, there're still many options in each category to choose from when entering a denim store. Sometimes you know exactly what kind of jeans you want to buy, but sometimes it can be hard to pick the right pair between all those jeans in front of you. Luckily well trained store staff can help you out easily with picking your perfect pair. But, still, it can be hard sometimes. So, let's see which basics can help you out to get your ultimate jeans. Your new beloved pair that you don't want to take off. Your best new denim friend!
Brand(ing)
Some people start their search for a new pair of jeans by choosing a denim brand. A brand that fits the best with their mindset as all brands are working and shaping a sort of own world. A world that attracts people to join. This is done by many brands already 100 years ago. Back then most brands were focused on the Western lifestyle in America, so they used their marketing also with this content. You could see farmers and Cowboys in their advertising, but also on the product itself such as the pocket flasher, the paper on the back of a pair of jeans that highlights all the info from that specific pair. Nowadays, it hasn't changed that much. In fact, brands are pushing you more and more to their brand with their created position. Some denim brands focus die-hard on their sustainable approach, while others are more about mindset and created branding in collaboration with a spokesman, like a famous actor or musician. If you have a good feeling about what the brand is all about, you will be more willing to go for that certain brand. So this is something important, and sometimes you don't even realize that this influences your choice of a certain brand.
Price
For most people the pricing of a pair of jeans is key. Before they enter a denim store they know exactly what their budget is, so what they can spend on their new purchase. When you know your price point it will make it easier for you to pick or focus on specific brands in the store. It can also be, that you had a different price point in mind, but when seeing the jeans in real life and maybe hearing the story behind the brand or specific jeans, you're willing to pay some extra. To be clear, it's not always the higher the price of a pair of jeans, the better the quality is. Or the longer you can wear those jeans. The most sturdy pairs of jeans, the ones that can be worn the longest, are unwashed, as they're the strongest. But this doesn't mean they are automatically the most expensive. And sometimes it also works the other way around of course. Sometimes you will see a cheaper-priced pair compared to what you had in mind that meets all your expectations. But, having a price point in mind can help you decide quicker to get your perfect pair.
Fit
This is maybe the most important one, the fit of a jeans. Everyone wants to look as good as possible in their new pair, but we don't have all the same body types. While some people look great in a jeans with so-called carrot legs, others look better with straight or wide legs. We're all different, so good to check and appreciate your body type. This sounds simple, but it can be very hard to find a pair of jeans that fits you the best because of your shape. That's also the reason why people are buying always the same fit from the same brand as they experienced that it was a perfect match for them.
Washing
When standing in front of a denim wall in a store it can be very hard to pick the right washing of a jeans. Some people like to wear clean jeans with no washing, or a simple rinse, while others like a totally trashed look. A more vintage look with holes, rips, and patches. Most of the time a specific brand is offering a certain fit in different washes. Even sometimes colors are added as well. Next to blue and black, they offer all kinds of colors of the rainbow. A good washing can also look the jeans better on you. They are developed to optically make the difference and make you look thinner, or they can give you the look of longer legs as well. Same as the fit, the washing is also an important element in picking the right jeans for you.
Sizing
The last, but certainly not least element to help you out in picking the right pair is sizing. Some people like to wear their jeans as tight as possible, while others prefer a more relaxed and baggy style. Of course, some people buy them way too tight, but also way too baggy. Buying a pair of jeans too tight can reduce the lifetime of it as you can get rips more easily. It also depends on the fabric and its behavior. Some fabrics are developed to buy them your true size, while others are made to buy bigger. A good retail staff member can help you to get the right size for you. Of course, you can also decide to size your jeans one size up as you like a roomier pair. And you also need to keep in mind that most jeans will also loosen with time and wear. But, again, also ask for help and advice in a denim store so you know you made the right choice in the end.
Yeni bir jean satın alırken size faydalı olabilecek temel bilgiler
Her sezon yeni trendlerle karşılaşırız. Bu sadece moda için değil, denim için de geçerli. Denim hiçbir zaman modası geçmeyecek bir klasik olsa da her zaman koleksiyonlarda ve stillerde bazı yenilikler görüyoruz. Denim trendi dizden aşağı daralan kesimler, dar, boyfriend, yüksek bel, normal ya da bol kesimlere göre yeniden şekillenebilir. Ancak şu bir gerçek: bir denim mağazasına girdiğinizde önünüzde birçok seçenek var. Bazen nasıl bir jean almak istediğinizi tam olarak bilirsiniz. Ancak bazen önünüzdeki onca seçenek arasından doğru jeani seçmek zor olabilir. Neyse ki bilgili mağaza personeli, mükemmel pantolonu seçmeniz konusunda size yardımcı olabilir. Ama yine de bu süreç bazen zor olabiliyor. Hangi temel bilgilerin aradığınızı bulmanız konusunda size yardımcı olabileceğine gelin beraber bakalım. Üzerinizden çıkarmak istemeyeceğiniz yeni pantolonu, yeni denim dostunuzu beraber bulalım!
Marka(laşma)
Bazı insanlar yeni jean arayışına bir denim markası seçerek başlar. Tüm markalar kendilerine özgü bir dünya yarattığından düşünce yapılarına en iyi uyan markayı ararlar. Kendilerini çeken bir dünya. Bu, birçok marka tarafından 100 yıl önce zaten yapılan bir şeydi. O zamanlar çoğu marka Amerika'daki Western yaşam tarzına odaklanıyordu, bu nedenle pazarlama kampanyalarında da bu içerikleri kullanıyorlardı. Çiftçileri ve Kovboyları reklamlarında görebileceğiniz gibi jeanin arkasında yer alan ve o jeane ait tüm bilgileri gösteren cep marka etiketinde de görebilirdiniz. Günümüzde de bu durum pek değişmedi. Aslında markalar yarattıkları konumla sizi kendilerine çekmeye çalışıyor. Bazı denim markaları sürdürülebilirlik yaklaşımlarına odaklanırken diğerleri daha çok belirli bir imaj yaratmakla ilgilenerek ünlü bir aktör veya müzisyen gibi bir sözcüyle işbirliği yapıyor ve markasını oluşturuyor. Markanın duruşunu kendinize yakın bulursanız o markayı tercih etme olasılığınız yükselir. Bu çok önemli ve bazen belirli bir markayı seçmenizi sağlayan bir şey, siz hiç farkında olmasanız bile.
Fiyat
Çoğu insan için fiyatlar önemlidir. İnsanlar bir denim mağazasına girmeden önce bütçelerini, dolayısıyla ne kadar harcayabileceklerini bilirler. Fiyat aralığınızı belirlediğinizde seçim aralığınızı daraltarak belirli markalara odaklanabilirsiniz. Ancak jeani gidip gördüğünüzde veya markanın veya ürünün arkasındaki hikayeyi duyduğunuzda ilk başta belirlediğiniz bütçeyi aşmayı göze alabilirsiniz. Açık olmak gerekirse, bir jeanin fiyatı ne kadar yüksekse kalitesi de o kadar iyidir diye bir şey yoktur. Ya da daha uzun ömürlü olacağının bir garantisi yoktur. En sağlam yani en uzun süre dayanan jeanler, yıkanmamış kumaşa sahip olanlardır. Ancak bu her zaman onların daha pahalı oldukları anlamına gelmez. Bazen tam tersi de olabilir. Bazen aklınızdakine kıyasla çok daha ucuz ve tüm beklentilerinizi karşılayan bir jeanle karşılaşırsınız. Ancak aklınızda bir fiyat aralığı olması, mükemmel jeani seçerken daha hızlı karar vermenize yardımcı olabilir.
Kalıp
Jean kalıbı belki de en önemli nokta olabilir. Herkes yeni jeaninin içinde mükemmel görünmek ister, ancak hepimizin vücut tipi aynı değil. Bazı insanlara havuç pantolon olarak adlandırılan jeanler yakışırken, diğerleri düz veya geniş paçalarla daha iyi görünür. Hepimiz farklıyız, bu yüzden vücut tipinizi aklınızda bulundurmanızı tavsiye ederiz. Bu kulağa oldukça basit gelebilir ancak vücut tipinize en uygun jeani bulmak kolay olmayabilir. İnsanların bir kez kendilerine yakıştırdıkları için aynı markadan hep aynı kesimi satın almalarının nedeni de budur.
Yıkama
Bir mağazada denim raflarının önünde dururken doğru yıkanmış jeani seçmek çok zor olabilir. Bazı insanlar hiç yıkanmamış veya basit bir durulama işleminden geçmiş temiz görünümlü jeanleri tercih ederken, diğerleri daha eskitilmiş bir görünümden hoşlanır. Delik, yırtık ve yamaları olan daha vintage bir görünüm. Çoğu zaman belirli bir marka, farklı yıkamalardan geçmiş kalıplar sunar. Hatta bazen buna renkler de eklenir. Mavi ve siyahın yanı sıra gökkuşağındaki her rengi sunuyorlar. İyi bir yıkama, jeanin üzerinizde daha iyi durmasını da sağlayabilir. Dış görünüş olarak fark yaratıp daha ince görünmenizi sağlarken bacaklarınızın daha uzun görünmesini de sağlayabilir. Aynı kalıp gibi, yıkama da doğru jean seçiminde önemli bir faktördür.
Beden
Doğru jeani seçmenize yardımcı olacak son madde ise beden ölçüsüdür. Bazı insanlar jeanlerini olabildiğince dar giymeyi severken diğerleri daha rahat ve bol bir tarzı tercih eder. Bazıları aşırı dar giymeyi tercih ederken bazıları da aşırı bol. Çok dar bir jean satın almak, daha kolay yırtılabileceği için kullanım ömrünü kısaltabilir. Bu aynı zamanda kumaşa da bağlıdır. Bazı kumaşlar tam bedeninize göre geliştirilirken diğerleri normalden daha büyük bedenleri almanızı gerektirir. İyi bir satış personeli doğru bedeni seçmenize yardımcı olabilir. Elbette, daha bol bir jean istediğinizde bir beden büyük de almaya karar verebilirsiniz. Ayrıca çoğu jeanin zamanla ve giyildikçe gevşeyeceğini de aklınızda bulundurmanız gerekir. Ancak yine de doğru seçimi yaptığınızdan emin olmak için bir denim mağazasından yardım ve tavsiye isteyin.
To view full content and a better mobile experience, try
Calik Denim mobile application