5 denim events you need to know (and to visit)!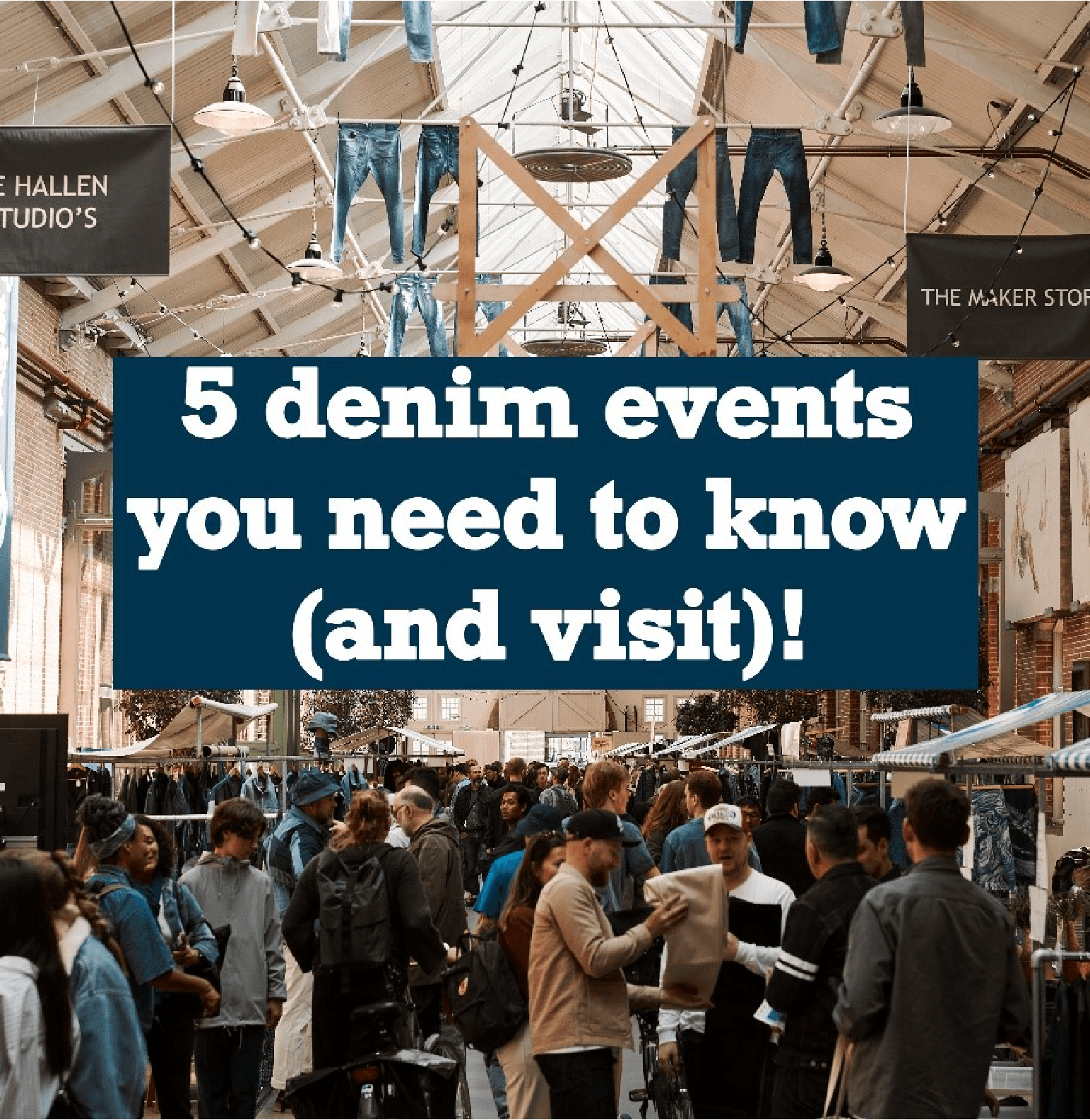 Denim is way more than just a pair of jeans or a jacket. It's a way of life, a lifestyle! And as with most lifestyles, there's a whole community behind it. All over the world, some people live the denim lifestyle whether they're running a store, blog, Instagram feed, or organizing a denim event.
Denim is way more than just a pair of jeans or a jacket. It's a way of life, a lifestyle! And as with most lifestyles, there's a whole community behind it. All over the world, some people live the denim lifestyle whether they're running a store, blog, Instagram feed, or organizing a denim event. Even other lifestyle segments are attached to denim, such as music, tattoo, bikers, barbers, bbq, beer, and many more. All with their own focus, but denim connects them all. That's also one of the great things about denim, it's for everyone, but it is also way more than just a garment. To celebrate the denim lifestyle there're quite a lot of events organized each year dedicated to this. Some of them are more consumer focussed while others are more business related. Some of these events even combine these two worlds. Let's highlight 5 of these events that you need to visit to meet like-minded people, and learn more about denim and its way of life!
Denim Days
Since 2014, each year Amsterdam turns blue and forms the center of attention for all those with an indigo heart. The event brings the community and consumers together, from addicts and fanatics to brands and buyers. All to celebrate its unique denim passion. At the event, you can buy your new beloved pair of jeans or jacket, and educate yourself more about the latest technologies, and sustainable approaches of denim brands. There're always workshops and lectures organized that are a perfect inspiration source. Next to that, you can meet denim people, hang around with your friends, and meet the people behind smaller and more established brands as well. The Denim Days event is always two days, and the next edition will be held on Friday and Saturday the 21st and 22nd of October at De Hallen in Amsterdam. This is a vibrating location as it is very close to the city center so easy to combine with shopping at your favorite denim stores.
Rose Bowl
The Rose Bowl is one of the most popular, maybe the most popular, flea market there is. The event is taking place for over 50 years in Pasadena, U.S.A. Each edition, nearly 20,000 people are gathering at the Rose Bowl every second Sunday of the month for buying experiences they can't get anywhere else. The R.G. Canning-presented Rose Bowl Flea Market and Market Place has become part of the fabric of Los Angeles, with each flea market transforming into a fun and memorable shopping adventure. You can find almost everything at the Rose Bowl, from antiques to furniture, design, and clothing, but it is a true mecca when it comes to denim. Many denim designers and collectors are visiting this flea market to get their hands on some true blue gold treasures. Pieces that you can't find anywhere, but this location brings the best of these together. Also, the sellers of these denim styles are one the world's best resellers when it comes to denim. A must-visit when you're going to Los Angeles, U.S.A.
Kingpins Show
The Kingpins Show is a B2C (business to consumer) event that is held twice a year, so each season. It's a denim fabric show that takes place in New York, China, and Amsterdam. And, they're organizing several other online events as well, all to educate and inspire the denim industry. At the Kingpins Show, you can select and buy your new denim fabrics from the best mills all around the world for the upcoming collection. This event is visited by designers, brand owners, trendwatchers, influencers, and so on. Although it's a fabric show, it's way more than that. They have grown into a total denim event that brings the entire denim industry and people that are dedicated to this together under one roof. The next Kingpins Show is held in Amsterdam on the 19th and 20th of October.
Wall of Fades
The denim community is huge in Indonesia. Although the temperatures are high all year round, denim enthusiasm like to wear heavy pairs of jeans over there. Each year Wall of Fades takes place, which is a consumer focussed event where you can mostly explore all Indonesian denim brands. Most of the denim brands that are taking place at this event are using unwashed fabrics, so you can achieve your own denim fades, logic with an event name linked to this of course. The last edition was held in April this year, and a new edition isn't announced yet, but will take place for sure very soon!
Bluezone Show
Bluezone is part of its bigger brother Munich Fabric Start. Both are fabric trade shows for denim business people, but Bluezone is dedicated to denim fabrics. It was founded in 2003 and has grown into one of the key trade shows when it comes to denim fabrics. All kinds of denim mills are hardware-related companies for denim are presenting each season their latest developments in Munich, Germany. At Bluezone you can explore quality materials, share know-how and discover innovations and the latest trends in a unique blue-blooded environment for denim beyond the seasons.
Kaçırmamanız gereken 5 denim etkinliği!
Denim, sadece bir jean veya ceket olmanın da ötesinde aslında bir yaşam tarzı! Ve çoğu yaşam tarzında olduğu gibi denim tutkusu etrafında birleşen hatırı sayılır bir topluluk var. Dünyanın dört bir yanında denim satanlardan bu ürünleri konu alan blog yazarlarına, Instagram paylaşımı yapanlardan denim etkinlikleri düzenleyenlere kadar bu yaşam biçimini benimseyen sayısız insan var. Müzisyenler, dövme sanatçıları, motosikletçiler, berberler, kasaplar ve barmenler gibi farklı gruplara mensup birçok insan da bu yaşam biçimini sahiplenmiş durumda. Farklı hayatlara sahip olsalar da denim tutkuları ortak. Denimi diğerlerinden ayıran özelliklerden birisi de işte bu: Herkese hitap ediyor ve bir tekstil ürününden çok daha fazlasını sunuyor. Her yıl bu yaşam tarzını kutlamak için çok sayıda etkinlik düzenleniyor. Bu etkinliklerden bazıları daha çok tüketici odaklıyken diğerleri daha çok konunun ticaret kısmı ile ilgili. Bu iki dünyayı birleştiren etkinlikler de yok değil. Kafa dengi insanlarla tanışmak ve denim yaşam tarzı hakkında daha fazla bilgi edinmek için kaçırmamanız gereken etkinliklerden beş tanesini sizin için sıraladık.
Denim Days
2014 yılından beri Amsterdam her yıl maviye bürünüyor ve kalbinde indigo sevgisi olan herkesi bir araya getiriyor. Etkinlik, denim tutkunları ve hayranlarından markalara ve alıcılara kadar toplumun her kesiminden insanı ve tüketiciyi bir araya getiriyor. Denim tutkusu insanları işte böyle bir araya getiriyor. Etkinlikte hoşunuza giden bir jean veya ceketi satın alabilir, markalarının en son teknolojileri ve sürdürülebilir yaklaşımları hakkında bilgi edinebilirsiniz. Ayrıca, katılımcılar için mükemmel bir ilham kaynağı olan atölye çalışmaları ve konferanslara da katılabilirsiniz. Bunların yanı sıra denim tutkunlarıyla tanışabilir, arkadaşlarınızla vakit geçirebilir, nispeten küçük veya köklü markaların mutfağındaki insanlarla da tanışabilirsiniz. İki gün süren etkinlik, bu yıl 21 ve 22 Ekim tarihlerinde De Hallen Amsterdam'da gerçekleştirilecek. Hareketli şehir merkezinin oldukça yakınında düzenlenen bu etkinliğin sonrasında ise en sevdiğiniz denim markalarından alışveriş yapmaya gidebilirsiniz.
Rose Bowl
Rose Bowl belki de dünyadaki en popüler bit pazarıdır. Etkinlik, 50 yılı aşkın bir süredir Pasadena, ABD'de gerçekleşiyor. Yaklaşık 20.000 kişi, başka hiçbir yerde elde edemeyecekleri bir deneyimi tatmak için her ayın ikinci Pazar günü Rose Bowl'da bir araya geliyor. R.G. Canning'in organize ettiği Rose Bowl Bit Pazarı ve Pazar Yeri, bit pazarlarının eğlenceli ve unutulmaz alışveriş deneyimleri sunan yerlere dönüşmesiyle Los Angeles dokusunun bir parçası haline geldi. Antikalardan mobilyaya, özel tasarımlardan giyime kadar hemen hemen her şeyi bulabileceğiniz Rose Bowl, denim açısından da çok önemli bir merkez. Birçok denim tasarımcısı ve koleksiyoncusu, hayallerindeki mavi altınları bulabilmek için bu bit pazarını ziyaret ediyor. Bu etkinlik, hiçbir yerde bulamayacağınız en seçkin parçaları bir araya getiriyor. Ayrıca bu denim ürünlerinin satıcıları dünyanın önde gelen denim tedarikçileri arasında yer alıyor. Kısacası yolunuz Los Angeles'a düşerse mutlaka ziyaret etmeniz gereken bir yer diyebiliriz.
Kingpins Show
Kingpins Show yılda iki kez, yani her sezon düzenlenen ve firmadan tüketiciye uzanan bir etkinliktir. New York, Çin ve Amsterdam'da düzenlenen bu denim gösterisi, sektör paydaşlarını eğitmek ve onlara ilham vermek için çeşitli çevrimiçi etkinliklere de ev sahipliği yapıyor. Kingpins Show'da dünyanın en iyi fabrikalarından yeni denim seriniz için kumaşlar satın alabilirsiniz. Bu etkinliği tasarımcılar, marka sahipleri, güncel trendleri kovalayanlar ve influencerlar da ziyaret ediyor. Her ne kadar dışarıdan bir sadece kumaş etkinliği gibi görünse da aslında bundan çok daha fazlası. Kingpins Show, tüm denim sektörünü ve denim severleri buluşturan bir etkinlik haline gelmiş durumda. Bir sonraki Kingpins Show, 19 ve 20 Ekim'de Amsterdam'da yapılacak.
Wall of Fades
Endonezya'daki denim topluluğu oldukça büyük. Sıcaklıklar yıl boyunca yüksek olsa da Endonezya'daki denim tutkunları kalın jeanleri giymeyi severler. Wall of Fades, her yıl düzenlenen ve ağırlıklı olarak Endonezya menşeili denim markalarını keşfedebileceğiniz tüketici odaklı bir etkinliktir. Bu etkinlikte yer alan denim markalarının çoğu yıkanmamış kumaşları tercih ettiği için onlardan alacağınız ürünlerin renkleri zamanla solarak eskimiş bir görünüm kazanır, tıpkı etkinliğin adındaki gibi. En son Nisan ayında gerçekleştirilen bu etkinliğin ne zaman tekrar denim severlerle buluşacağı henüz duyurulmadı ancak çok yakında olacağı kesin!
Bluezone Show
Bluezone, büyük kardeşi Munich Fabric Start'ın bir parçasıdır. Her ikisi de denim üreticilerini bir araya getiren kumaş fuarlarıdır ancak Bluezone sadece denim kumaşlara odaklanan bir etkinliktir. Tarihi 2003 yılına dayanan etkinlik, zamanla denim sektörü için en önemli ticaret fuarlarından biri haline geldi. Çeşitli denim markalarına ait tedarikçi firmaların temsilcileri, her sezon Almanya'nın Münih kentinde toplanarak en yeni gelişmeleri değerlendirirler. Bluezone'da kaliteli malzemeleri inceleyebilir, bilgi birikiminizi paylaşabilir ve sezonlarla sınırlı kalmayacak şekilde denim sektöründeki yenilikleri ve en son trendleri keşfedebilirsiniz.
To view full content and a better mobile experience, try
Calik Denim mobile application